"This might be a good day to go somewhere," my wife said. It was early morning on our annual family trip to Lake Clitherall. The sun was risen, yet hidden by clouds. A fine drizzle threatened to sequester us inside the resort. "I was looking on the map and it looks like there is a new cidery north of Battle Lake," I responded. She gave me a cocked her head and gave a thoughtful grin as if to say "that's interesting." It was time for 1910 Sip House.
When I began dating my wife, her family had a lake lot on Lake Citherall. Like many Minnesotans, our weekends during the summer was spent up north. Unfortunately, they had to let the place go, but their heart still remains on the shores of that lake. These days we take an annual trip to Bonnie Beach Resort for a dose of nostalgia and tradition. And over the course of a week in September there is bound to be rain in the forecast. That's usually my opening to visit a local brewery since being out on the lake isn't an option. The only downside is that choices are sparse. There was Ashby Brewing Company (then Ashby, now in Battle Lake), and Fergus sprouted three breweries of their own (Union Pizza, Outstate, and Fergus), but I'm always looking for new spots. When I saw a cidery pop up it was only a matter of time before we'd visit.
1910 Sip House opened in October of 2020, a month after our previous visit. It's the second fermentery in the state that has chosen a grain bin for their taproom—Bang Brewing being the other. Unlike Bang, 1910 converted a storm damaged grain bin. The result is the same, a metal cylinder with a conical roof. There has to be thousands of them in the state, but when you see one surrounded by a patio and garden you have to imagine what curiousities await.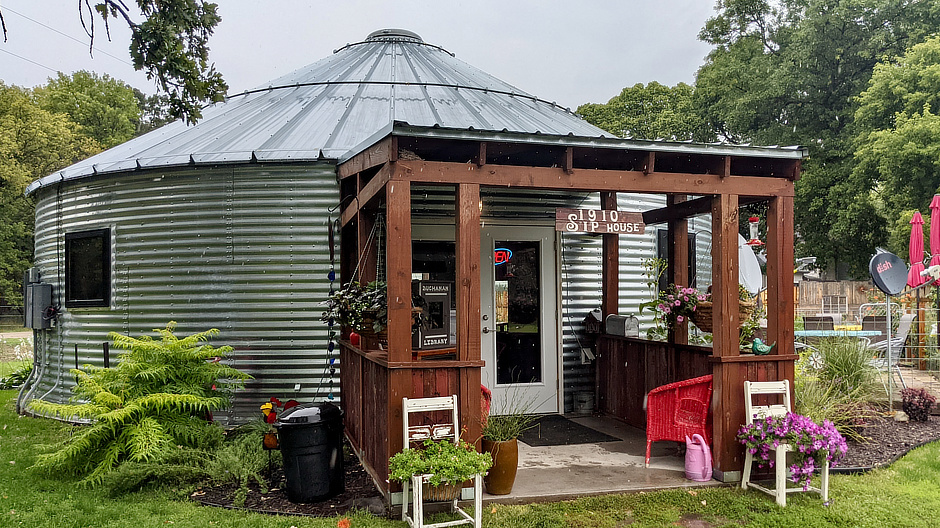 "It's too bad it's raining, the outside looks great," I said. We pulled our kids from the car and hurried inside. It took a step for my eyes to adjust to the dim lights. There was a small group of people at a table near the door—one of only a handful of tables. Pre-children we'd go straight to the bar and order a drink. These days we bring a remarkable amount of gear with us that we prefer to shed first. My wife's sister Jill, her husband David, and their son Henry were going to be joining us. So we found a spot near the back that could seat four adults and contain three small kids. A tall task. With our kids corralled and occupied with veggie straws, I went to order a pair of flights.
I don't have tasting notes for the ciders we tried, but I don't remember anything bad hitting my tongue. We got a mixture of sweet and traditional ciders. The variety surprised me—12 ciders on tap during our visit. There was something for everyone on the list from traditional with zero adjuncts to "pastry" ciders with toasted coconut and marshmallow. There was even a dil pickle cider for the thoroughly crazed.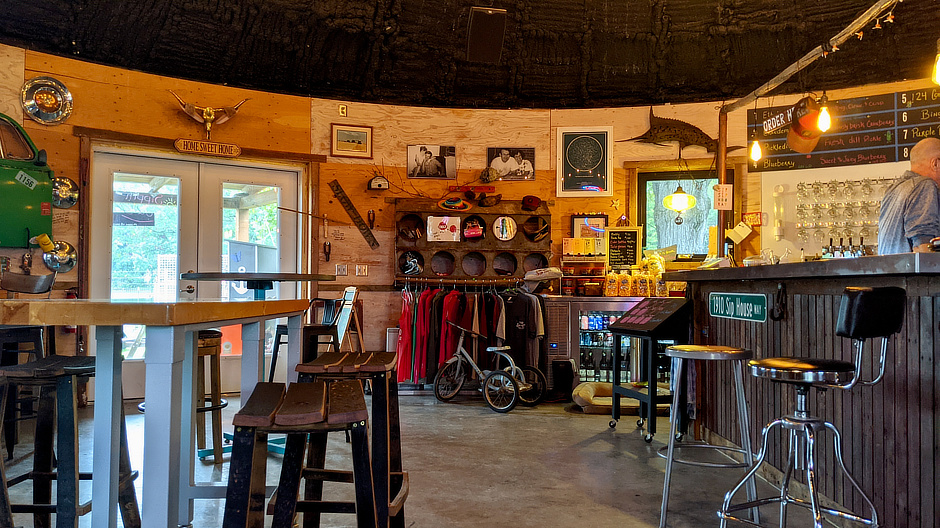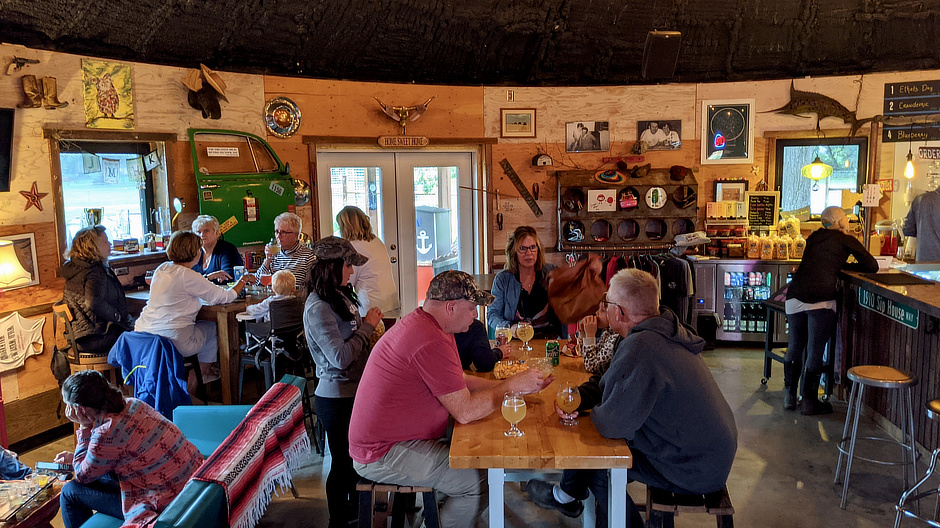 The interior is cozy cabin kitsch. If you're a Minnesotan familiar with "lake culture" you know what I'm getting at. Random objects, crafts, knotted pine, etc. A cobbled collection of tables and chairs attempt to maximize the space. It's like we stumbled into a circular room at someone's cabin. Outside is a different story. The patio wraps around half of the bin. At the back sits a metal corn crib, with a few seats inside. Plants abound, with a garden stretching the outside length of the patio. It's got an intimate feel, like you've stumbled into someone's personal garden.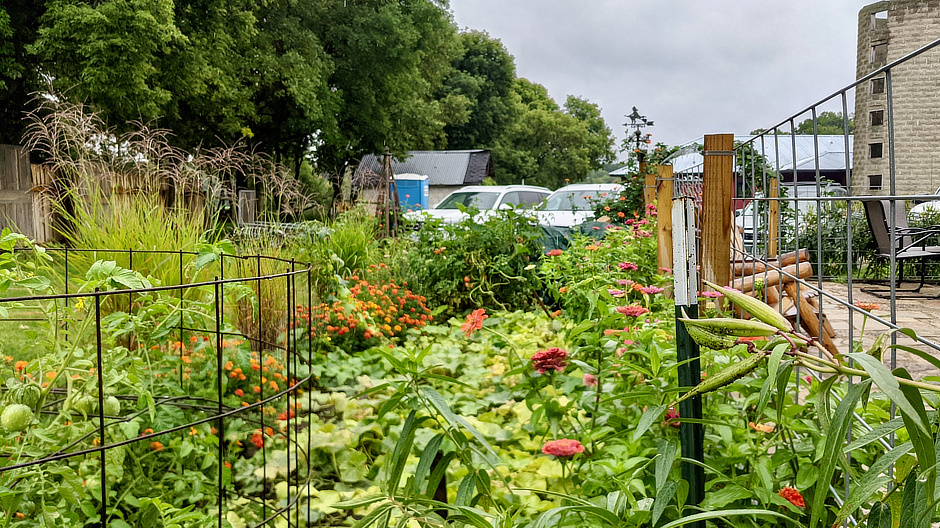 We cut our visit short due to the fuse of two toddlers that had discovered working legs. I started my craft beer journey by drinking ciders. It was a highway from the sweet cocktails I used to drink into a more complex world. Since drinking beer I've limited my cider exposure to visits like these—happenstance. This visit reminded me there are whole other fermented worlds out there to explore. I'm anxious to see what they offer next year.