There is something intriguing about a small town brewery. It summons the past, a time when breweries dotted the country. When locals would gather in the park after Sunday mass and enjoy a refreshing mug of the area's lager with friends and family. When I hear that a brewery has opened in a town with a population of less than 500, I can't help myself. It's even more appealing when they are only open for a handful of hours a week. Ashby Brewing Company is the latest nano-brewery to provoke a visit.

"Ope, how are you!" the woman said, distinctly Minnesotan. She was speaking with a gentleman on the patio and was surprised to see me when she turned back to the taproom. Taken literally, a taproom should be a room with taps. This one had that, but no seating. They managed to cram in the brewhouse, a cooler, and a bathroom in the tiny building that once had a life as a lumberyard office. "I'm doing well, and wondering if you have flights?" I responded. "We do! Just choose any four beers." she said, pointing at the tap list on the wall. It would be hard to miss the large chalkboard adorning one of their walls and looming over their stack of pony kegs.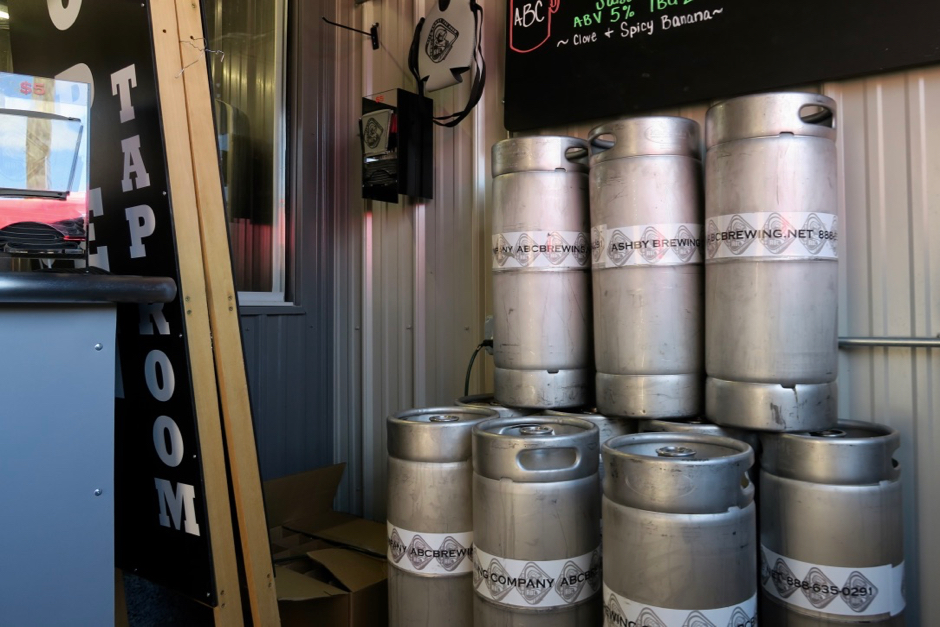 I had no choice but to take my flight outside. No complaint there. In spite of a stiff breeze, it was warm and sunny. It was at this point that I realized the folks at Ashby Brewing are fans of the literal, perhaps accidentally. The origin of the word patio is "inner court open to the sky" and, as it's sandwiched between two buildings, that's exactly what theirs is. Three picnic tables with bright red umbrellas set atop the grass. A sanctuary for craft beer in rural Minnesota.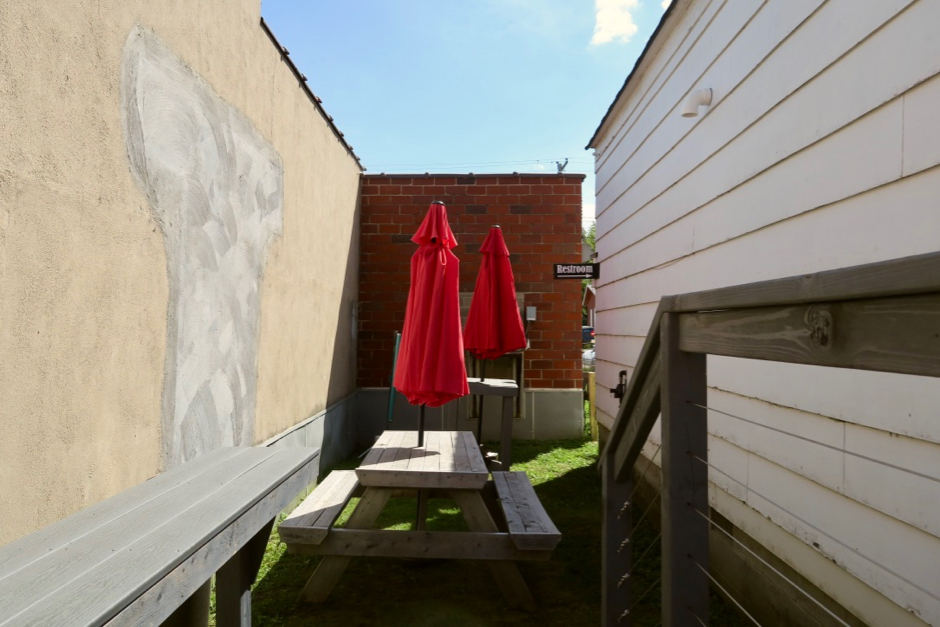 My wife and parents joined me shortly after I had taken a seat. We were on our way to a weekend getaway on Lake Clitherall. Our check-in was later that afternoon and, since Ashby has limited hours, we would wait with beer in hand. People strolled in and out during our visit, almost everyone on their way to the lake. To my daughter's delight, one of them had a tiny fluffy puppy named Otter to keep her busy. To my delight, I witnessed local's dropping their mail in the postal box on Ashby's front yard. I can't explain why but for me these vignettes are prime people watching.
The beers were light. The highest was the Runestone Man IPA at 7.6% ABV and the rest were well under that. I tried the following beers.
AAA Ashby Amber Ale
Runestone Man IPA
Bull Session Pale Ale
Threshermen's Delight American Wheat Beer
They have cards for each beer with local legends that they dub the "Ashby Saga." The Runestone Man refers to the Kensington Runestone. It's a slab of greywacke covered in runes that a local swede claims he found while clearing his field. As my Minnesota history teacher claimed "them boys were here." Threshermen's Delight didn't have a card. The bartender explained that it's referring to beer they serve at a local festival for the "threshermen." Basically, it's a low alcohol beer meant to refresh after a hot day in the sun. Aren't they all?
Ashby Brewing Company has got to be the smallest taproom in the state. I asked the bartender – the wife of one of the founders – whether they keep their hours during winter. She said they did and that most people come in to fill their growler and leave. My suggestion was a rail against the front window. People need more cold weather activities. You could do worse than craft beer.