"I think it's back here" I said. Gravel crunched beneath our car's wheels as we rolled towards an industrial corner of Fergus Falls, Minnesota. "Where are you taking us?" my wife questioned. For as good as Google Maps is, there are times when scouting your destination draws dead. According to street view we were in the right place, but also according to street view it was a dead end. "There it is!" I spotted a gray wooden sign pointing our way. A riverside patio awaited us at Outstate Brewing Company.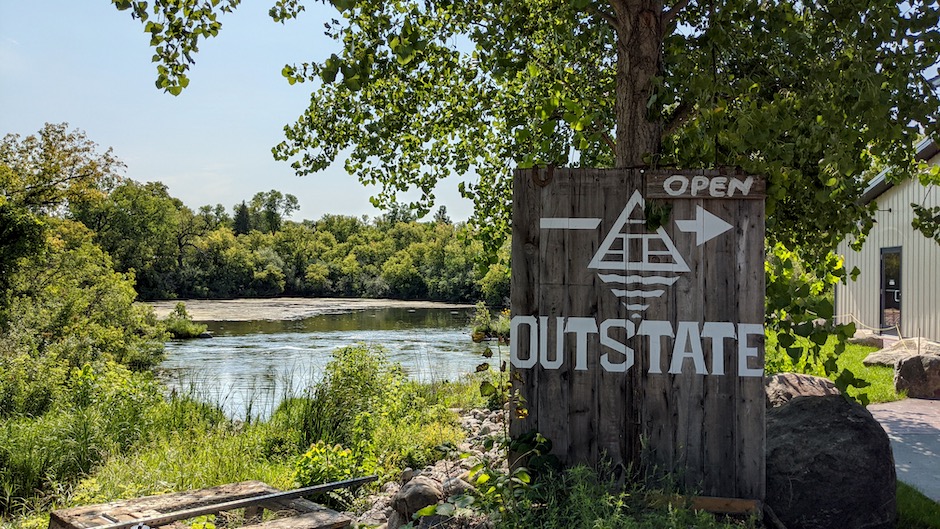 I wrote the following review before I discovered Dan Mohagen, the co-owner of Outstate Brewing was convicted of criminal sexual conduct in the fifth degree for nonconsensual sexual contact. This was uncovered by emboldenactadvance an advocacy group for assault and harassment in the alcohol industry. As of writing this blog post I am not aware of any statement from the brewery and Dan Mohagen is still listed as a co-owner on their website.
We arrived shortly after they opened their doors. With children it's almost mandatory. For our toddler it helps her get used to the place without a bunch of people. Too much stimulation. With an infant it's nice to choose your seat to maximize privacy and interruption of others. Several early birds had beat us to the roost. I guess we're not the only ones that show up early.
"I'll open a tab" I said to Samantha. She was getting Arlo comfortable, angling his carseat to be in the shade and adjusting him inside it. Another benefit of arriving early is you get the measure of the place without bothering folks. That's beneficial during COVID-19, where I did everything I could to keep my distance. Their take on "up north" decor is tasteful. They've got all the usuals: rustic wood slats, a canoe, license plates, wildlife photos, old block and tackle, etc. It's decor that can tip quick into kitschy, but Outstate steers clear of the edge.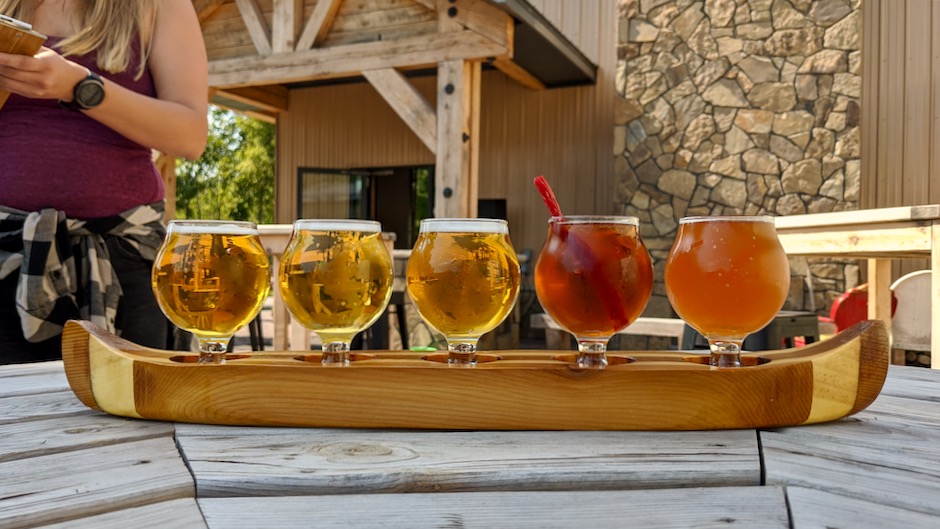 I returned to our table with a flight of beers. Or should I say a portage of them? Their flight board is one of the best I've seen, a thick piece of wood cut into the shape of a canoe. Five tulip glasses rest in holes drilled into the top. Like a voyageur canoe carrying precious cargo. Everyone loved them; our table became an expedition of beer. Mine were:
Common Cream Ale
Rope Burn Fruited Ale
Bucket Pale Ale
Edge Catcher Hazy IPA
Peanut Butter Chocolate Dipper Stout
The most unique of the bunch was Rope Burn. It came with a Twizzler, priming me for the cherry notes in the beer. While aided by novelty, it was well balanced and refreshing. I gave two of the other beers a single star. First was the Common Cream Ale. This style can delve into a creamy, sweet crater, but Common remains crisp, the perfect balance of malt and a low hop bitterness. It's what I imagine when ordering cream ales and I'm often let down. Not this time. The other favorite was Peanut Butter Chocolate Dipper. Regular readers know that I'm a sucker for peanut butter. It reminded me of Dangerous Man's peanut butter porter. High praise. Sweet but not saccharine, smooth but not thick, a liquid Nutter Butter.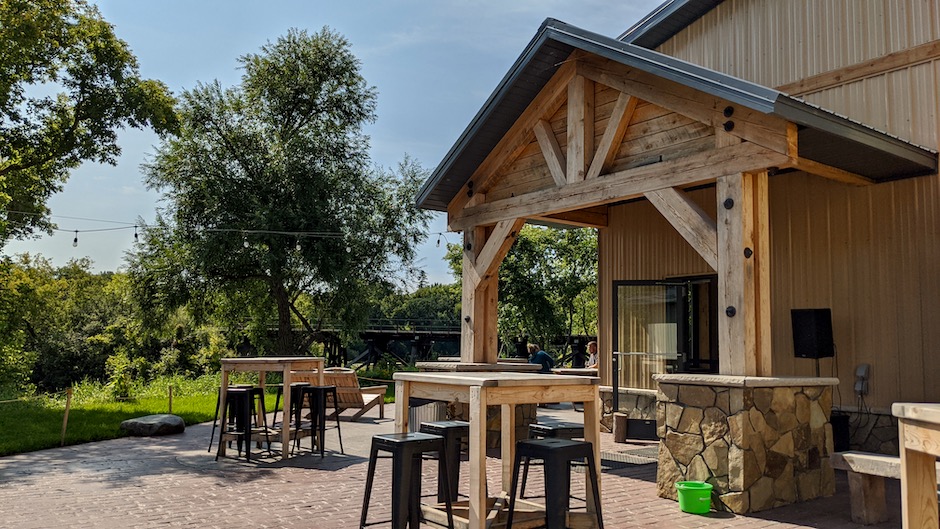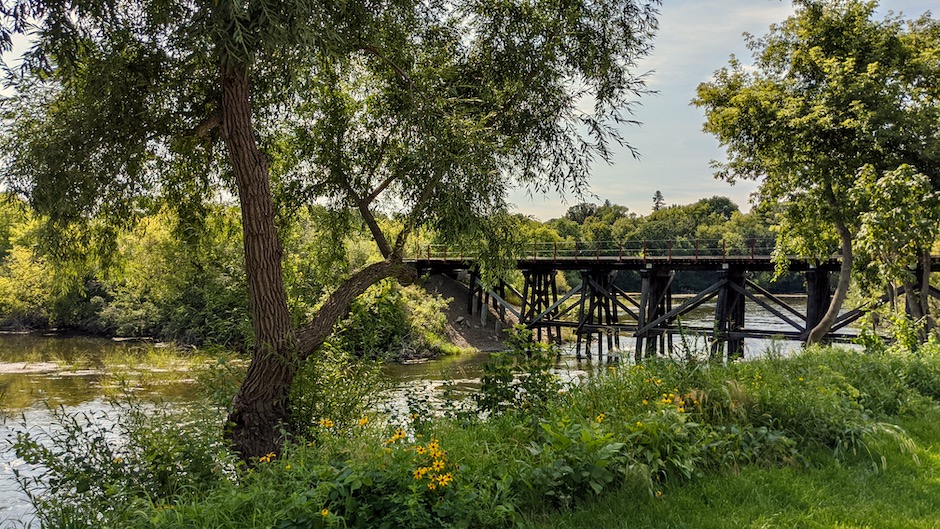 The patio is a gem. I awarded Outstate "Best Destination" in my 2020 awards, but they could've easily won "Best Patio." Stamped concrete wraps around their building, curving against the Otter Tail River. Across the water there is a park which locks in the view. Like you've stumbled on a brewery in the wilderness, instead of in an industrial park in the city. It's an idyllic setting to enjoy fine craft beers. Dusk on a warm summer evening would be a true delight.
Outstate joins Union Pizza and Fergus as one of three breweries in Fergus Falls. That's an excellent brewery to citizen ratio. It's not too shocking when you consider folks "outstate" jump at the chance to support local businesses that enhance their community.