"It's not open yet, thirty more minutes." I said. "Let's grab something inside." My wife and I were standing outside San Francisco's Ferry Building. It was our last morning in the city. Most of our trips end with an early rise and a mad dash to the airport. I prefer leaving in the middle of the day. You get a proper goodbye and one last chance to see something you missed. On that morning we took the California street cable car from Nob Hill to the Embarcadero. I stood on the front right corner of the car – in complete bliss – like a dog with his head out the window. My plan was to ride the euphoria into craft beer. Fort Point would make me wait.
The Ferry Building is impressive. Completed in 1898 and designed in the Beaux-Arts style, it gives the area a Parisian feel. They don't make public buildings like this anymore. In the early 2000s they converted the main level into a marketplace. Full of restaurants, bakeries, ice cream parlors, and a variety of soft and hard goods. Out front you can't miss the beautiful clock tower rising from the building's center. More vendors nestle under the arcade that runs the length of the building. One section holds a Fort Point satellite taproom, a special place to enjoy their beer.
They don't brew at the Ferry Building location but it's a taproom that I had to check off my list. Bonus points for being next door to the infamous Blue Bottle. It was easy to kill time. My wife grabbed some food inside and we walked along the waterfront to Rincon Park and back. It gave me time to work up a thirst.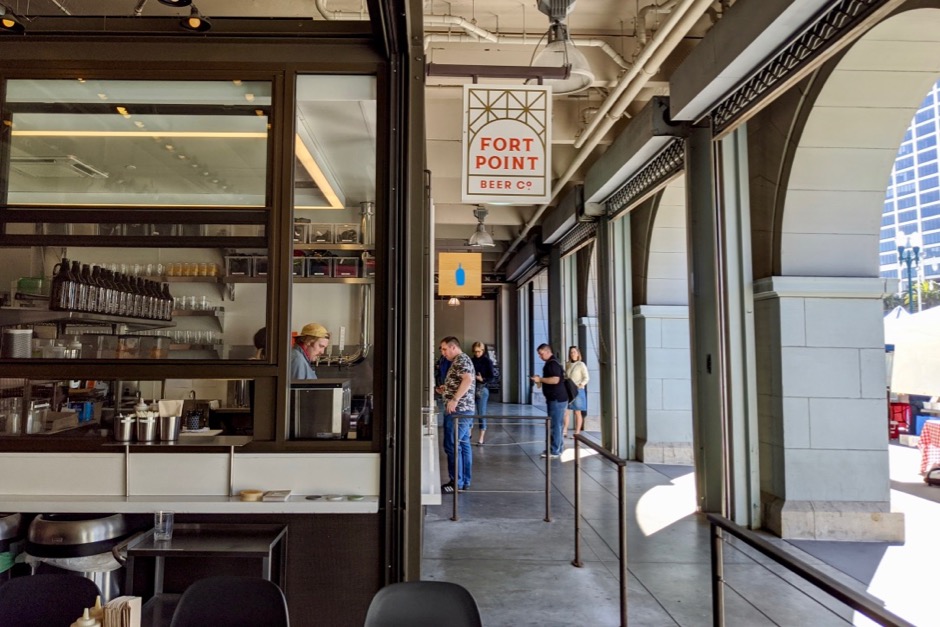 Fort Point has two stalls under the arcade. One is where you order and the other houses the kegs. I'm not sure where the keg lines run, maybe behind the beer can wall that provides the back drop to the taproom. Each can is bold in color with their thick illustrative style. It runs floor to ceiling. I love them. If you need air conditioning you will need to look elsewhere. It's all outdoor. Shaded under the arcade at 67 degrees; the perfect place for our last hour in the city.
I ordered a beer and a plain hot dog before joining my wife at one of their narrow community tables. They brought them both out to me (it was a nitro pour) and we began a reflection of our trip. My wife is used to me asking what her favorite part of the trip was or whether she had any regrets. She was ready for a discussion. I enjoy reflecting on what makes a trip better than others, which helps us on future trips. There are few better places to muse than under the arcade of a historic landmark with the city skyline framed under one of its arches.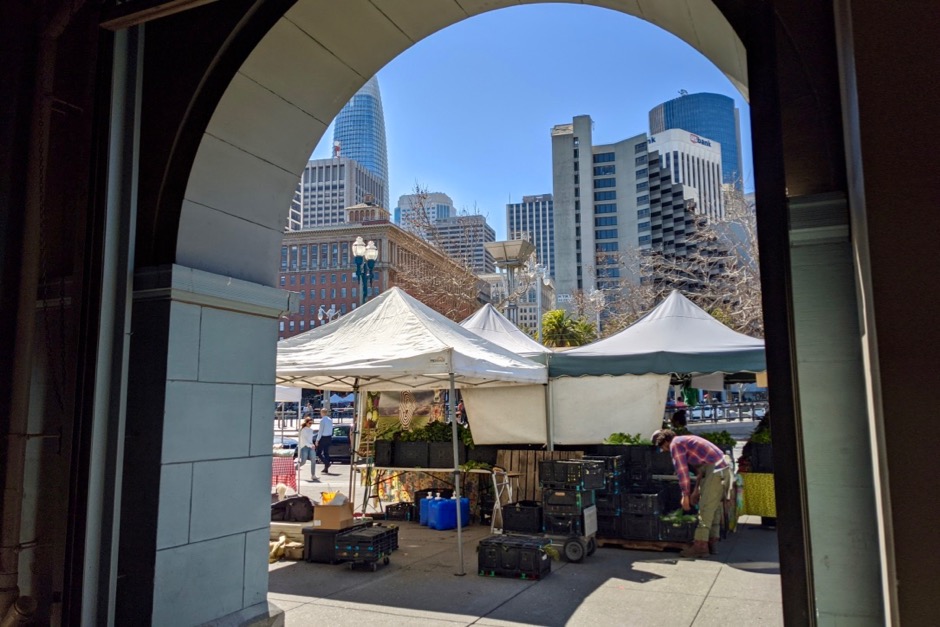 I had two beers. The Westfalia Red Ale on Nitro and the Manzanita Smoked Altbier. I'm a malt head. Both beers tell an interesting tale. A brewer's trip to Nuremberg, Germany inspired Westfalia. One of the traditional styles there is the Rotbier (red-beer), fermented at low temperatures for a long duration. As context, most ales are top-fermented at higher temperatures. The result is a smooth and soft mouthfeel with excellent malt flavors. The Manzanita emulates Rauchbier (smoke-beer), another popular German style. It's a mash up between Germany and California, combining beechwood smoked malts and charred manzanita branches. One of the most balanced smoked beers I've had, one star.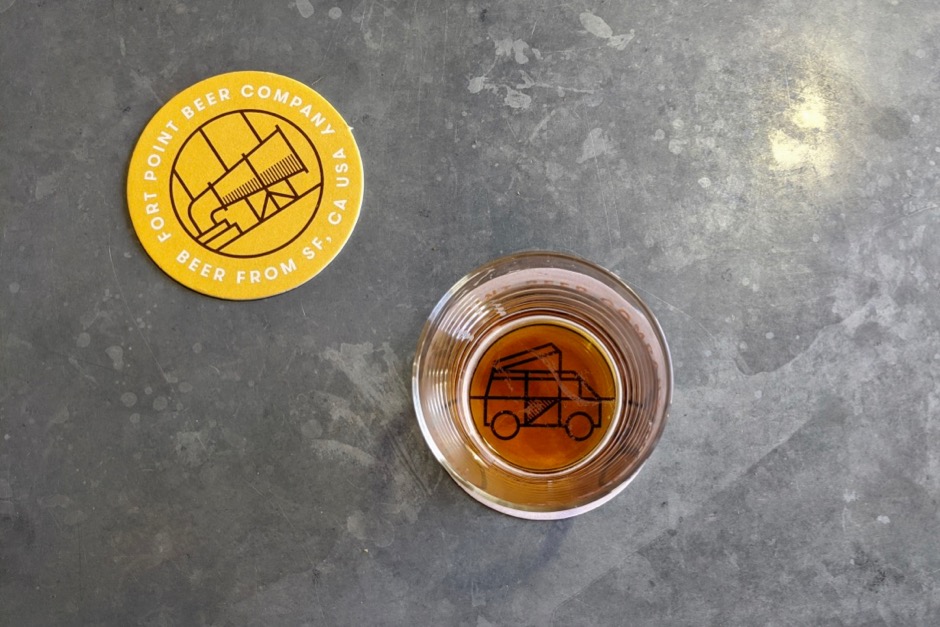 It wasn't long before we had to grab our things and head back to the hotel. We had a great weekend in San Francisco and capped it off with an excellent lunch at Fort Point. After our trip, the country went into lockdown due to COVID-19. As I write this we are still not "out." I'm not sure when we will return to normal. When we do, take a trip to the bay and grab a drink and a dog at Fort Point.