"We're going to a brewery Arlo," Ellen said. In her short life, our daughter had learned quick about breweries. Now she was educating her toddler brother, eager to share. Our day was ambitious, we decided to take a day off from our farmhouse renovation to spend with the kids. We were packing up our sidewalk gear, our morning spent at a blistering Independence Day parade. "It's almost nap time," my wife noted. "Let's head to Rochester, it'll give them time to sleep," I said. Little Thistle Brewing awaited.
The cat's out of the bag, I love craft beer. It's hard to hide when you've built your social media presence around it. It also means that whenever you talk to anyone they ask if you've been to their local brewery. Most of the time I can say yes, but lately that's been more difficult. One of those inquiries was from my brother. He doesn't drink beer, but he wanted to know if I'd been to the brewery next to the bike trail in Rochester. Turns out that was Little Thistle. They're near the souther terminus of the Douglas State Trail, a short flat bike path that starts (or ends) in nearby Pine Island.
"We're heading to Little Thistle," I said. I was on the phone with my brother—we hadn't seen him or his family in awhile. "Is that the brewery next to the bike trail?" he asked. It was. They agreed to meet us at the brewery; two little kids is a big draw for a family with two teenagers. I snuck a glance into the back seat at our two little nappers. It's rare you wish a drive is longer and this was one of them.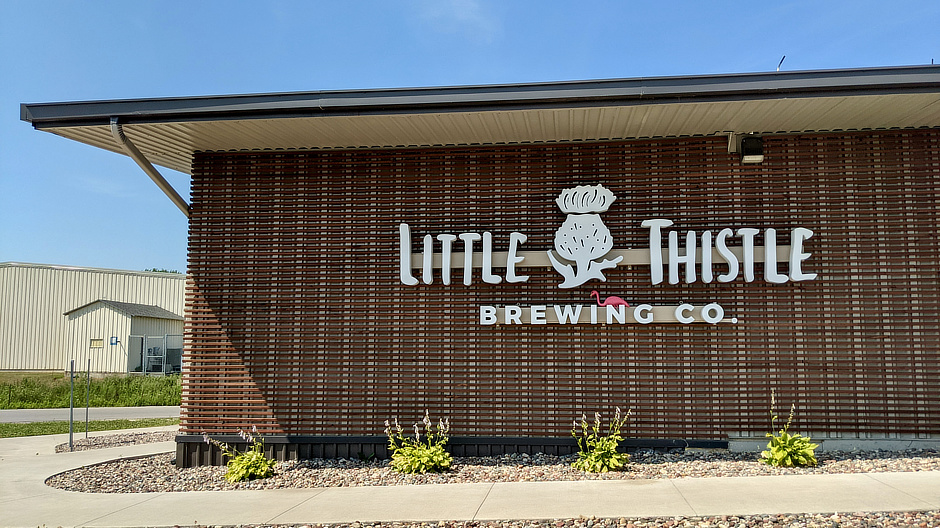 "We're at the brewery Arlo!" Ellen shouted. He snapped awake with the quizzical look toddler's are experts at giving. Little Thistle's location had a previous life as a truck loading dock. They've got a thin wide taproom and a patio that spills out of a handful of glass garage doors. They've filled in the area where trucks backed up to those doors with a grassy slope. At the base of that is a large solar covered beer garden—crushed rock, wooden picnic tables, and shipping containers. Their tables would house the eight of us effortless, but none were open.
Inside you're greeted by a half wall separating the taproom from the brewhouse. The building is split in half lengthwise. Seating on one side, restrooms, equipment, and cooler on the other. One of my craft quirks is my love for thin taprooms. Don't ask, I have no idea why. The line was long, stretching from the door to the bar. We weren't the only ones looking for a cold drink on a hot day. I ordered two beers and prompted Ellen to find her mother. She was happy to oblige.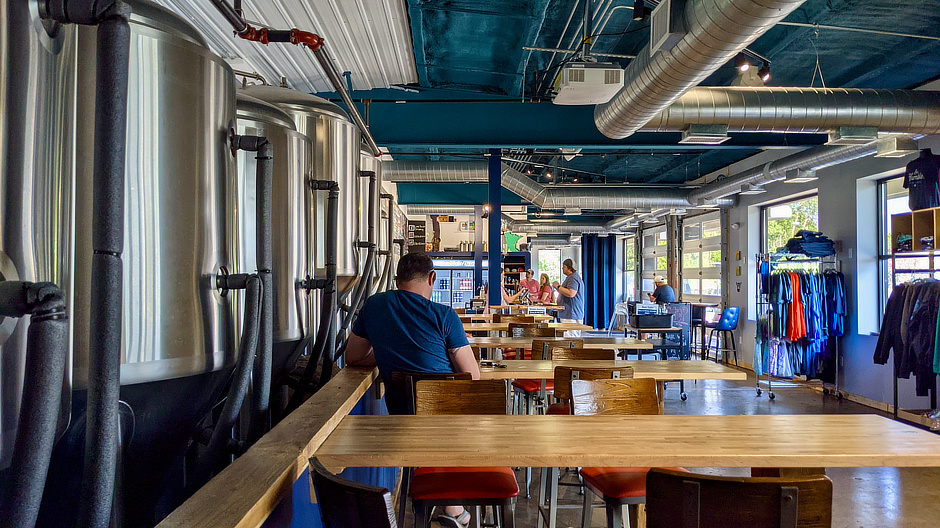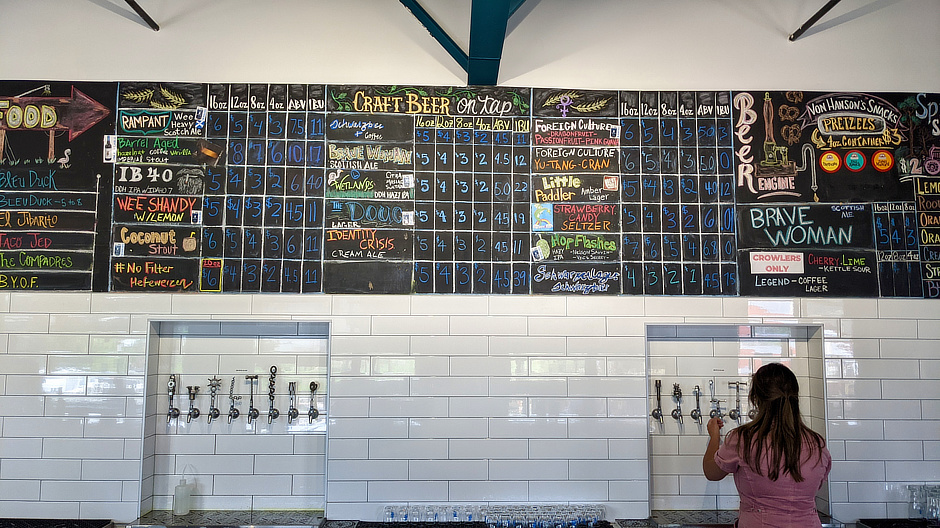 We found them hiding in a thin sliver of shade on the top patio which disappeared shortly after the arrival of my brother's family's. Timing on our side, a table opened up in the beer garden. While we chatted, Ellen and Arlo entertained, and I tasted beer. Five in fact:
Identity Crisis Cream Ale – Style guidelines embodied; gone in a flash.
IB 40 DDH IPA – A blast from IPA's past—clear, snappy, hoppy.
Foreign Culture Fruited Sour – Dragon fruit, passion fruit, and pink guava. Soft and creamy.
Brave Woman Scottish Ale – On style, standard issue.
Barrel Aged Hazelnut Coffee Vanilla Imperial Stout – Vanilla on the nose, vanilla on the tongue. A lot of vanilla.
The year preceding our visit had been challenging in a variety of ways. The pandemic, a new baby, and intense home renovation had filled our lives with stress from all corners. When we ventured out it was to places we'd had great times before and knew we would again. Little Thistle was a corner turn, teasing our previous life of travel and new experiences. They didn't let us down.