"Do you want to grab something before we pick up the kids?" my wife asked. Habits are hard to break. The pandemic forced us to establish new routines. We used to do mini-dates before we'd pick up the kids from my in-laws. The lockdowns adjusted that practice enough to make excluding that automatic. Now it was June, the first week of summer. Now things were open and we were discovering old habits lost to time. "Of course, how about Ineffable? It's that new brewpub in Burnsville."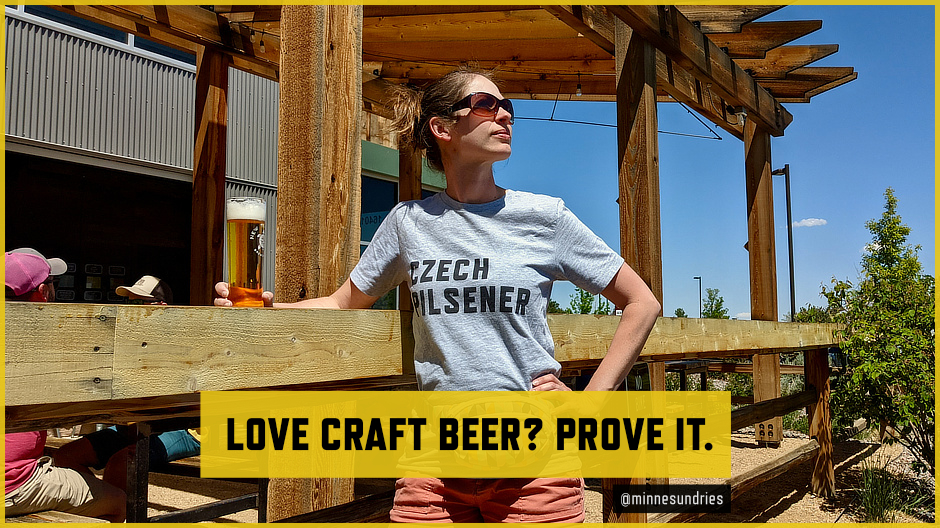 Ineffable Brewing Company took over the old Nutmeg Brewhouse location in Burnsville, Minnesota. They opened October 17th, 2020—the heart of the COVID-19 pandemic—and had to juggle the restrictions like every other small business. Not to mention a brand new one. We'd been to Nutmeg a handful of times, it was close to us and the food was decent at the start. Unfortunately, they slipped on all fronts. I had high hopes for Ineffable. Burnsville is a great exurb for a craft brewery, filled with a wealth of folks eager for a water hole close to home.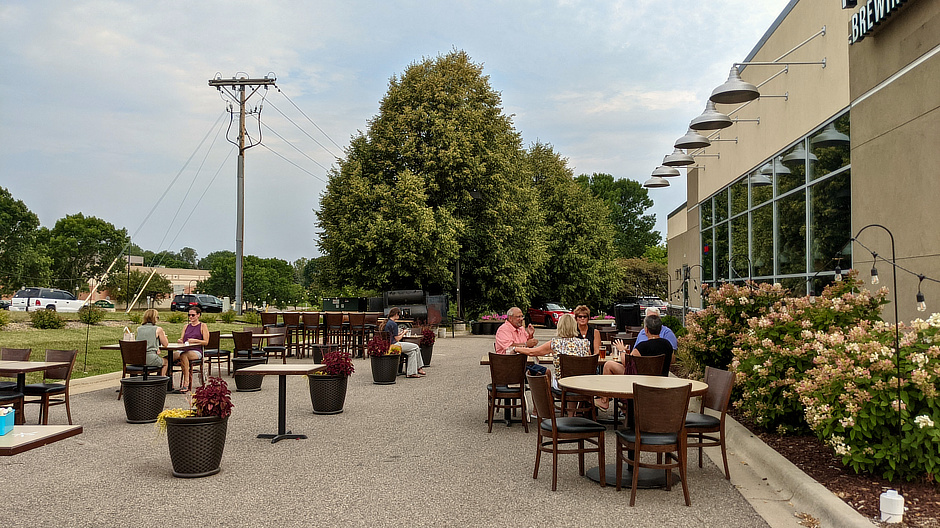 It was a balmy afternoon, outdoor dining (and drinking) was in full swing. The building doesn't have an outdoor space, but they had converted a portion of their parking lot into a makeshift patio. Imagine you transported all the furniture from a restaurant into a parking lot. That's it, you've got it. It's an understandable decision for a new brewery trying to navigate uncharted waters. It was a surreal experience.
While we sat and browsed the menu I was overcome with a familiar smell: the wonderful aroma of smoked meats. I turned to see a man tending a mobile smoker, white clouds billowing from the open drum. These metal monstrosities embody the raw expression of barbecue. The rougher the better, I knew what I'd be eating.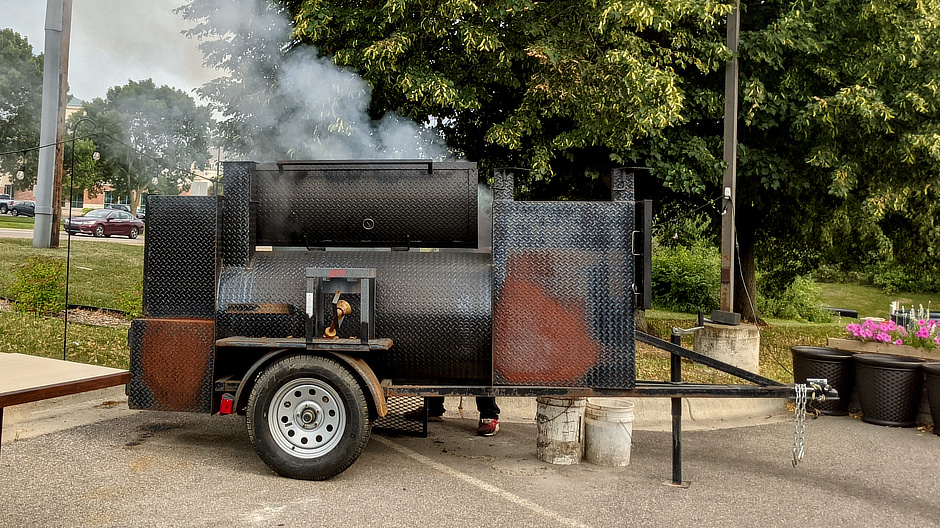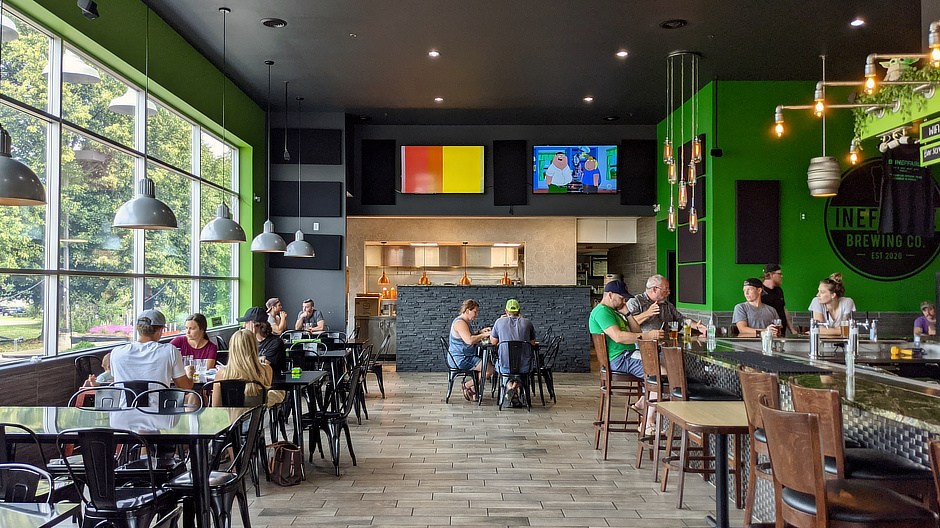 The interior of Ineffable looks like a modern American restaurant with a vibrant splash of lime green. They've got a scratch kitchen slinging a full menu of upscale bar food. There's an L-shaped bar with the tap list hanging from above it. A tiny green bordered chalkboard features each beer. They are then hung from a series of screw eyes. Breweries are always looking for modular ways to feature their tap list; this is a simple and inexpensive solution that looks great. You can catch a glimpse of their brewhouse tucked into a room behind the bar.
I ordered the smoked wings and they didn't disappoint. Samantha enjoyed a hotdog overflowing with condiments and a side of fries. We also split three beers:
Strawberry Milkshake IPA – I ordered the Dessert White Stout, but I got a beer that smelled and tasted like Hershey's Strawberry Syrup. It was tasty, but sweeter than what I'd expected.
Tropical Drought West Coast IPA – Well balanced with a hint of dank and pine that complement without overpowering.
Mexican Lager – With a touch of lime, a crushable beach beer.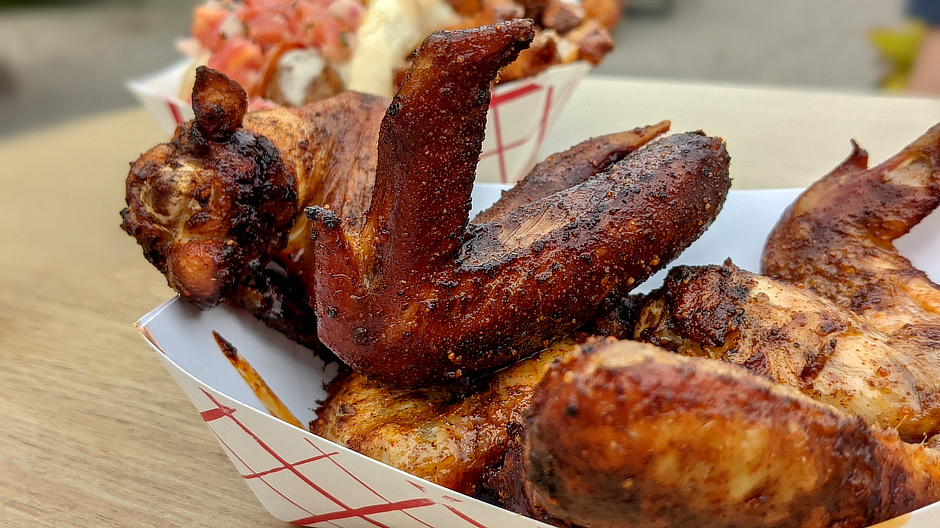 A town of any size can support a craft brewery: big or small, urban or rural. It amazes me when even some of the largest cities in the state don't have one. Burnsville is in the top 20, and Ineffable is now one of two breweries. In some ways, a small rural town with no distribution footprint may be easier to sustain. There is a lot more competition once you get into the suburbs. You can't sneak through with subpar food or drink. Naming yourself Ineffable—too great or extreme to be expressed or described in words—sets a lofty goal. Here's to hoping they get there.