If there is one thing that we organize our trips around more than craft beer it would be food. For our Honeymoon we went on a wonderful guided tour of Europe. We chose guided because planning a wedding was hard enough. It worked great but we had a fair amount of our meals to ourselves. Our plan was to wing it – something we'll never do again. When you have two of your worst Italian meals in Venice and Rome, you're doing something wrong. My wife chose Rintaro for our splurge dinner but we had some time to kill before the reservation. Why not go down the street to Standard Deviant Brewing for a drink or two?
Standard Deviant sits on the northern edge of the Mission District. I'm no stranger to big cities but I'm still amazed at the different feeling you get depending on the area of a city you're in. This spot was a blend of gritty and rejuvenation. We walked near both rundown and renovated buildings. The brewery felt somewhere in the middle. It's a steel blue building set next to an ivy covered facade. A single garage door welcomed us.
It's hard to miss the bar: a continuous slab of redwood with a live edge. Behind it, another large slab stretches to the timber frames above, with the brewery's logo cut into it – almost burnt. The ceiling is exposed wood with a handful of skylights. We couldn't enjoy those since the sun had already set. The taproom was dark, with only a few warm lights in the ceiling and a handful of string lights. If I were to guess, I'd say the building used to be a warehouse or a garage. It gives things a vibe of new world craftsmanship anchored in the past.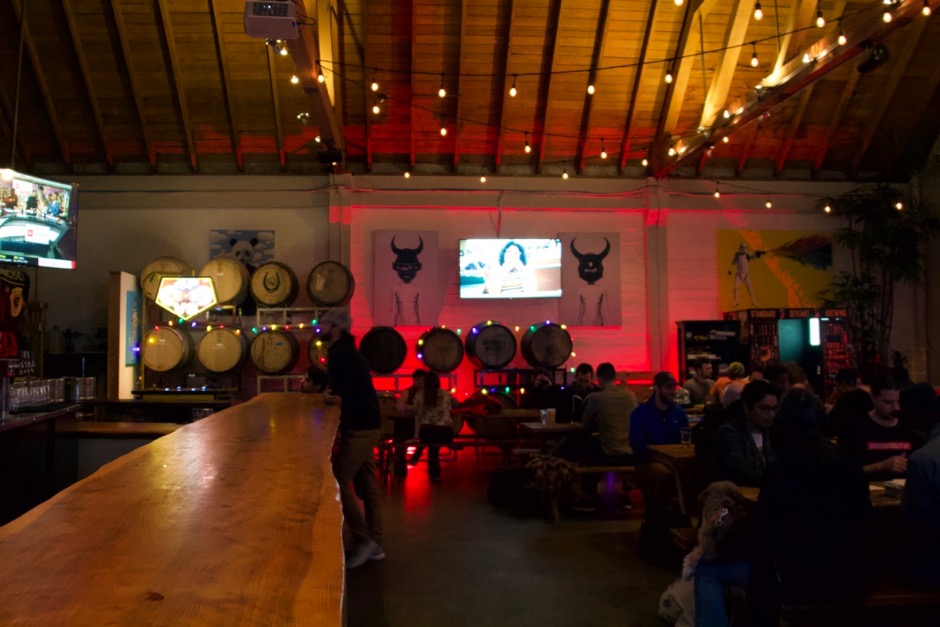 It was quiet both in sound and in action. Most of the seats are community tables with benches. Most of them had two or three people spread out on them. The bar is standing only, an interesting approach that I haven't seen before. One downer to visiting craft breweries with my pregnant wife is the non-alcoholic options. The breweries back home in Minnesota do this well, but so far in San Francisco it had been a complete failure. Standard Deviant delivered one step above the others with a few choices available. With a root beer and a stout in hand we took a seat.
One tangent before I get to the beer. There was a small array of pinball machines in the corner. We both love pinball. We're bad at it, but we love it. In the Twin Cities, the TILT Pinball Bar has joined forces with a couple of local breweries to start a pinball league. It could be the wild eyed dreamer in me, but I'd love to see a nationwide pinball league with breweries as their chief venue. If anyone is listening (and I know they aren't), lets get this done. It would give me a reason to figure out how to get my ball to last more than 10 seconds.
Based on the tap list, Standard Deviant focuses more on standard styles than chasing trends. This is something I respect and enjoy. I have an endless selection of hazy IPAs waiting for me. Variety is welcomed. I had time to try two beers: the Nitro Oatmeal Stout and the Vienna Lager. The stout came after an excellent pour complete with rest and cascade. I was looking for a little more depth, but all the flavors were there. The Vienna Lager tasted on style but it was too sweet for me. Not bad though, it's a tough beer to nail.
The rest of the tap list at Standard Deviant looked intriguing but our dinner reservation came too fast. I've seen photos of the place during the day. It looks magical with the garage doors open and the sun filtering through the windows and skylights. The bartender was the nicest of our entire trip. A good thing when you're in the hospitality business; something many craft breweries completely miss. If you're sick of trendy styles, give them a taste.