"It seems like a lot of breweries are in bad neighborhoods," my wife said. It was the tail end of our day. We picked up the rental car in the morning and took it across the Golden Gate Bridge for an afternoon admiring the redwoods at the Muir Woods National Monument. I angled to take the long way around the bay. It added thirty minutes to our trip, but we'd get to drive across the Richmond–San Rafael Bridge (I like bridges) and gave us a chance to try one of Berkeley's highest rated craft breweries, Fieldwork Brewing Company.

"It's not that bad," I responded, knowing I was trying to pull the narrative in my favor. A tent village full of the homeless filled the underpass. It looked rough. Driving through the Northwest-Berkeley neighborhood was a mixed bag. Graffiti covered buildings sat next to trendy restaurants and coffee shops. Outdoor recreation stores were neighbor to auto body and machine shops. An article from Craftbeer.com reports on Fieldwork's opening. It mentions they are moving into a neighborhood "undergoing steady urban revitalization."
Breweries need a lot of space with low leases. Their customers have money to spend and will drive to the taproom for an expensive glass of beer. It's the perfect storm that allows them to move into abandoned industrial spaces. They put a lot of money into the buildings, improving the property value, and attracting other businesses that serve the same audience. There is no way to avoid it.
Fieldwork chose an impressive spot at the corner of Sixth and Harrison. They're next door to an urban winery and a maker space. Across the street is a community farm. The building is laurel with the words "FIELDWORK" in a dark moss green. Every twenty feet a yellow sign orders you to lock your doors and not leave valuables visible. We parked near the door, grabbed our cameras, and headed in.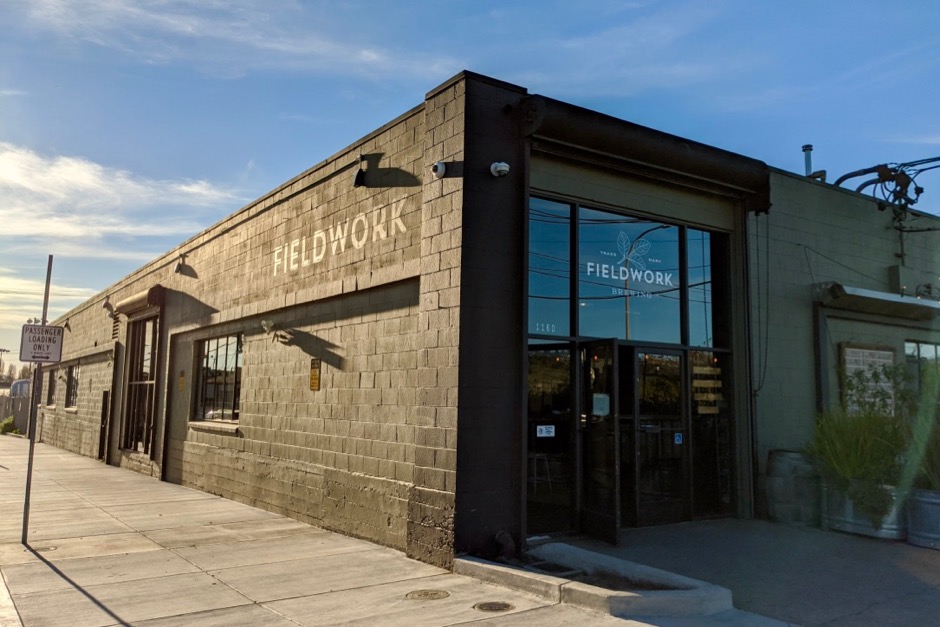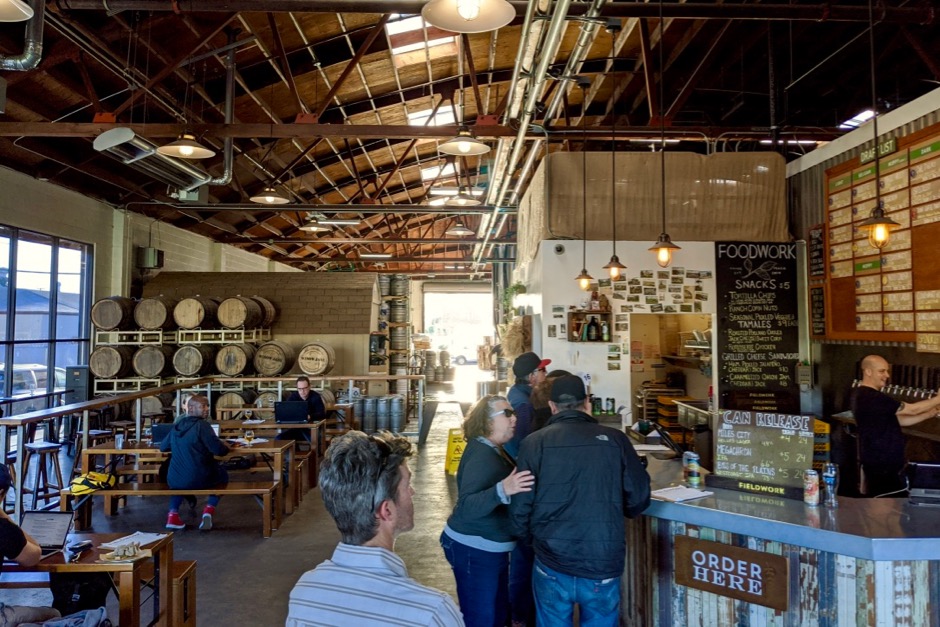 Fieldwork excited me. By all accounts their beer is fantastic, but I'm in it for the ambience as much as the beer. Their taproom is a gem. What looked like a boring industrial building became a warm and inviting workshop. They have a vaulted wood ceiling with skylights. The materials used alternate between metal and wood, a balance that never tips too far in one direction. You've got a choice between tables with benches and standing or sitting at the rails. These different seating types mingle with each other and maximize the space.
While standing in line the warm light washing in from the rear of the building drew my eye into the brewhouse. Kegs stacked in every nook, and the brewers hard at work, wringing out the last hours of light. The perfect setting for craft beer. I had my work cut out for me while filling out my flight card. With 24 beers on tap I made a lot of sacrifices. One of the beers I chose was from a new keg and the bartender made sure to taste it before pouring one for me. Excellent service.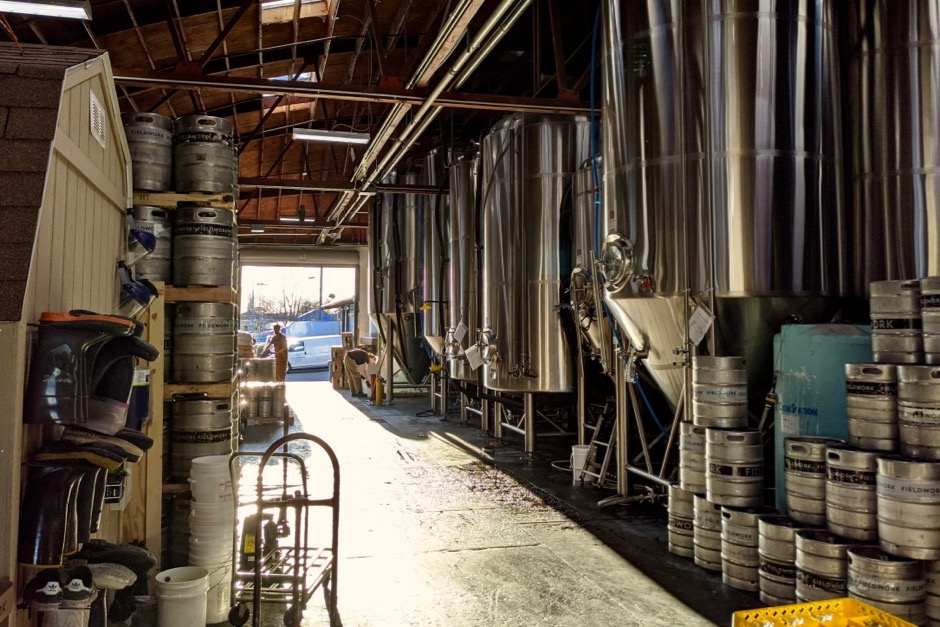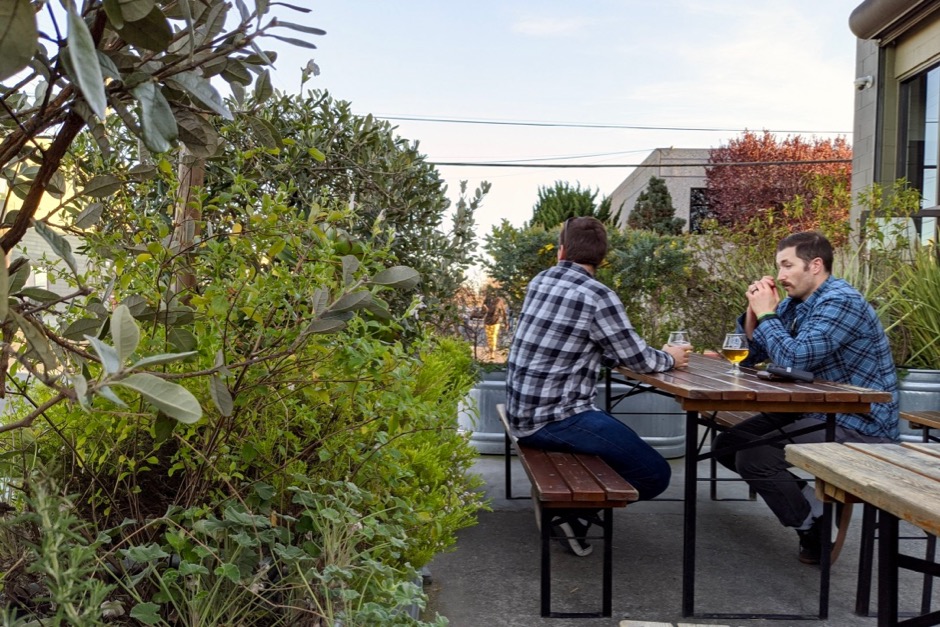 The flight came in a large wooden tray with FIELDWORK spray painted in yellow on the side. The tasters came in full size glasses. It was 70 degrees on our last evening of vacation; we sat on the patio. Another gem. Overflowing with a variety of plants it was like someone's backyard garden. I still think you don't see enough plants in taprooms and on patios. They add a natural contrast to the usual gray and brown.
I don't hesitate to say that Fieldwork had the most consistent and high quality flight of beer I've ever had. All but one of the beers earned at least a star in my tasting notes and two of them earned two. Fantastic. I tried the following:
Old Love – ★ – Bohemian Lager – A wonderful and balanced lager. Bitter on the front with a smooth light malty finish. Nailed it.
Owl Theory – ★★ – Czech Dark Lager – My favorite style of beer. Chocolate on the nose. Dark, rich, and full bodied. I love the name. Outstanding.
Hannah – Biere de Garde – Not my favorite style. Peppery, tart, and fruity. Not bad but not my favorite.
Jumbo Coffee Morning – ★★ – Espresso Vanilla Porter – I've seen this style and flavor combination muddied before. Not this one. Smooth and creamy, espresso undercurrent with a vanilla top note. Like a bowl of vanilla ice cream melted into a cup of espresso. Balanced and clean. Gorgeous.
Rasta Sauce – ★ – IPA – A refreshing change of pace from NEIPAs and DIPAs. One of the few dank IPAs that I've enjoyed this much.
Audio Cinema – ★ – DIPA – Do you like Hawaiian Fruit Punch? This little wonder has all the aroma and flavor. Juice packed. Hard to go wrong.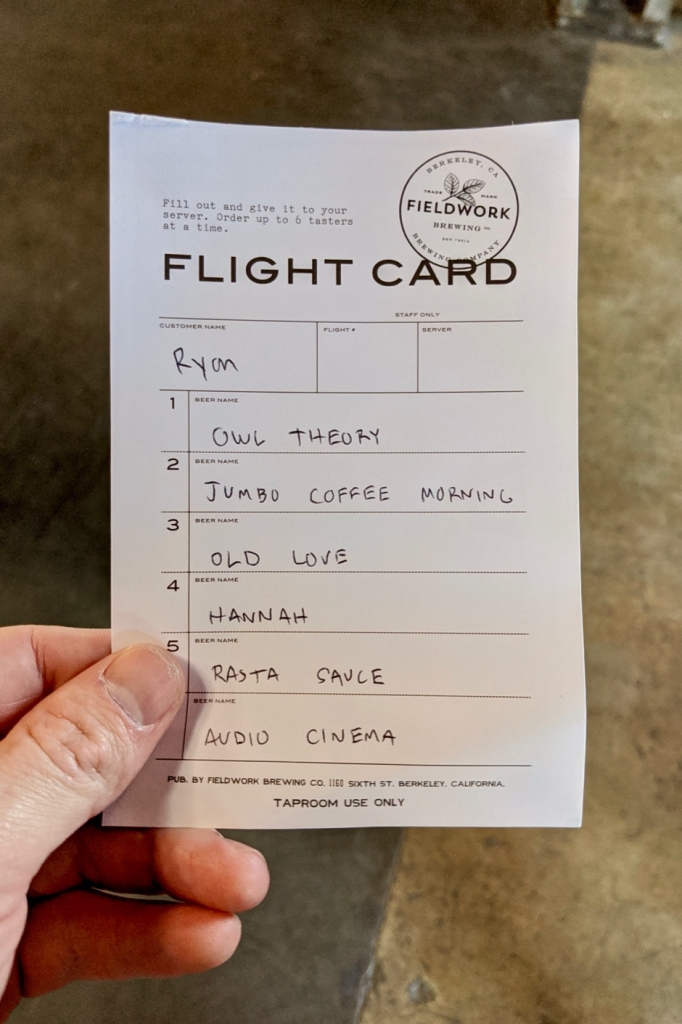 "Do you drive a black Mercedes van?" The comment jolted me out of my post-flight euphoria as I overheard one of the bartenders asking a nearby table about their car. "We do." I called to him. It was our rental, a clunky beast. "Someone came in and said they saw someone break into it and then ran off." I told my wife I'd check it out. What are the chances someone else drove a Mercedes van to Fieldwork Brewing Company? Pretty low.
Here we were. Parked twenty feet from the front door, broad daylight, and underneath a camera. They smashed in the rear passenger side window, strewing glass throughout the backseat. Our camera bag was gone but everything else remained. Luckily, both of our cameras were on the patio with us. The thief got away with a wide angle lens, some souvenirs, and our National Park Passport with stamps from a fair amount of parks. I returned to the patio to break the news to my wife.
Instead of enjoying our last evening in the bay, we spent an hour cleaning up broken glass. Four or five people shared their own stories of cars being broke into in the neighborhood and one even offered to buy us a drink inside. We weren't in the mood. It's a shame. I went from the highest emotional point of our trip to the lowest in a single minute. It's not Fieldwork's fault. Their beer is fantastic and the taproom was a true delight. They have my highest recommendation. But bring everything you own into the taproom.