"How far is the next place?" my father-in-law asked. We were at local brewery in downtown Northfield, Minnesota. My brother-in-law and his fiancée were visiting from Utah. It was our once a year chance at catching up—face to face. They wanted to go out for drinks after dinner, Charles preference was beer and Maddie's spirits. "It's only a couple of minutes down the road," I responded. Loon Liquor was next up.

"Where are you taking us?" my mother-in-law joked. A trick about opening in a mixed use commercial building is that your patrons traverse a maze of narrow hallways. It's no more than a few turns to get to the cocktail room, but it's disorienting all the same. "It's right here," my sister-in-law said, her voice muffled around the corner.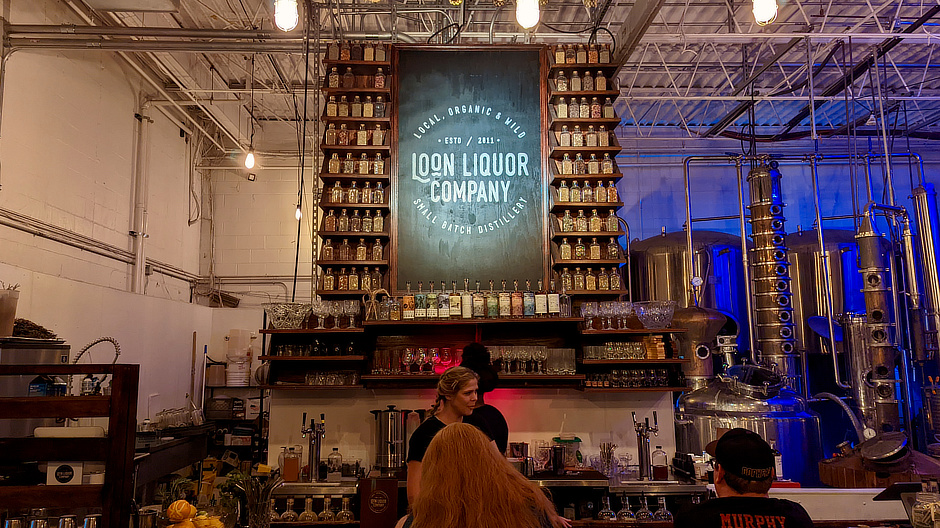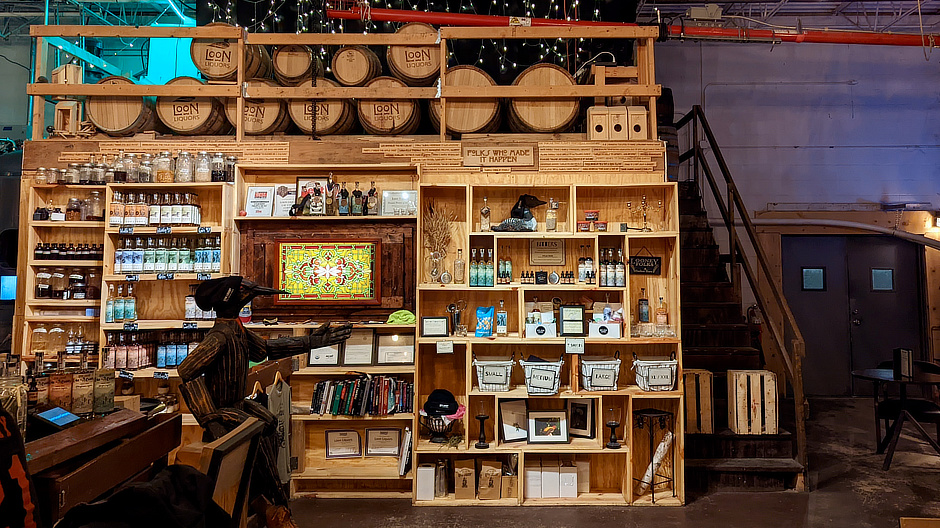 Another trick is beautiful spaces that make you forget you're in a commercial building at all—one Loon Liquor wields well. Upon entry, to your left is a small bar with a towering chalkboard flanked by bottles. I imagine they are different grains and other ingredients, but couldn't quite tell. An anthropomorphized loon sits atop the bar. His name I'd learn to be Charles Augustus Loonman, named after local hero Charles Augustus Wheaton. Go to their site to get more details about him. Sequestered behind the bar is the stillhouse. It includes fermenters and lauter tuns like a brewhouse with the addition of stills that look ripped from a steampunk comic book. My favorite part of distilleries are the stills, wonderful and whimsical contraptions.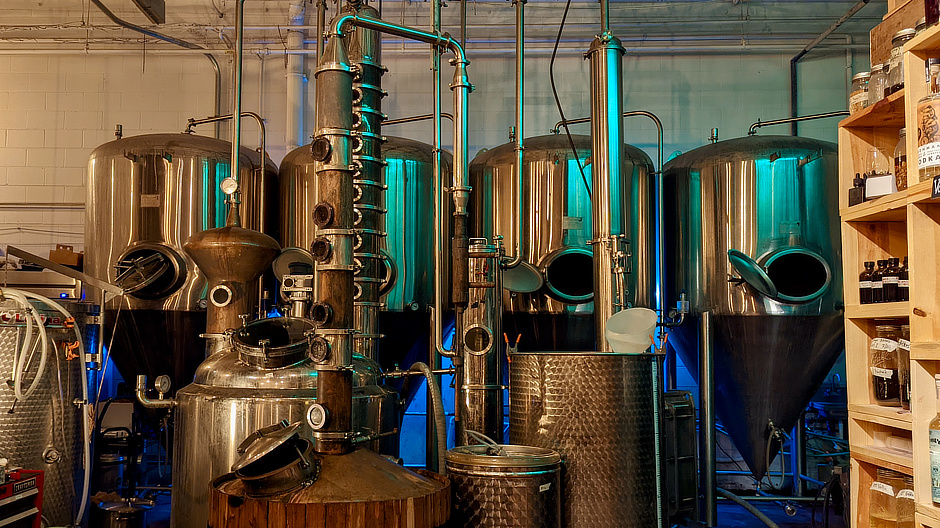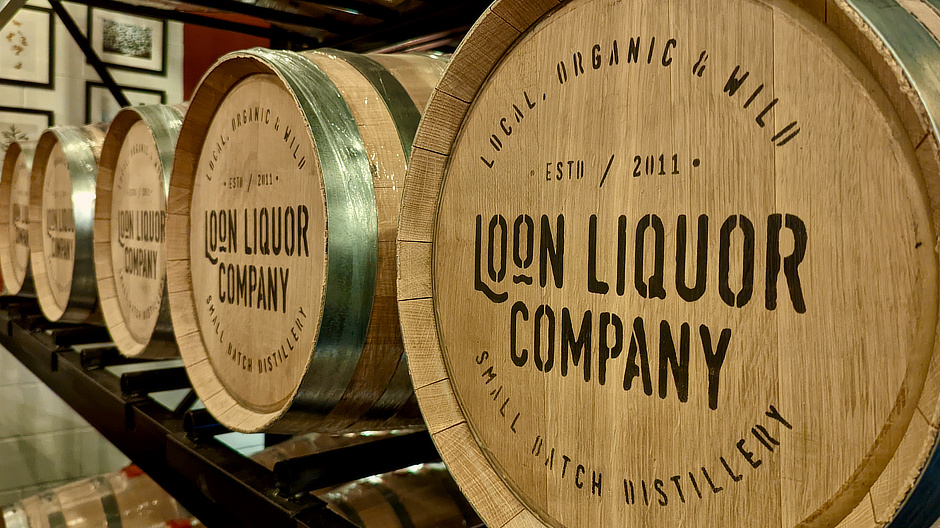 It's a small cocktail room—only a handful of tables few of which could hold our entire group of eight. We opted for a large booth near the entry, placed in the shadow of a barrel rack. It was cozy. I'm not ashamed to admit I waited until most people were in until I sat so I could have an easier exit. A bartender came to get our order shortly after we settled. I'm no expert on spirits, but Loon's cocktail list leans towards fun and inventive instead of traditional. They make their Old-Fashioned with cedar simple syrup, their Manhattan can come with a smoke infusion, and their Martini uses lemon-infused gin and dill infused aquavit. From there they get more off the wall and fruity. The latter pools is where I tend to swim.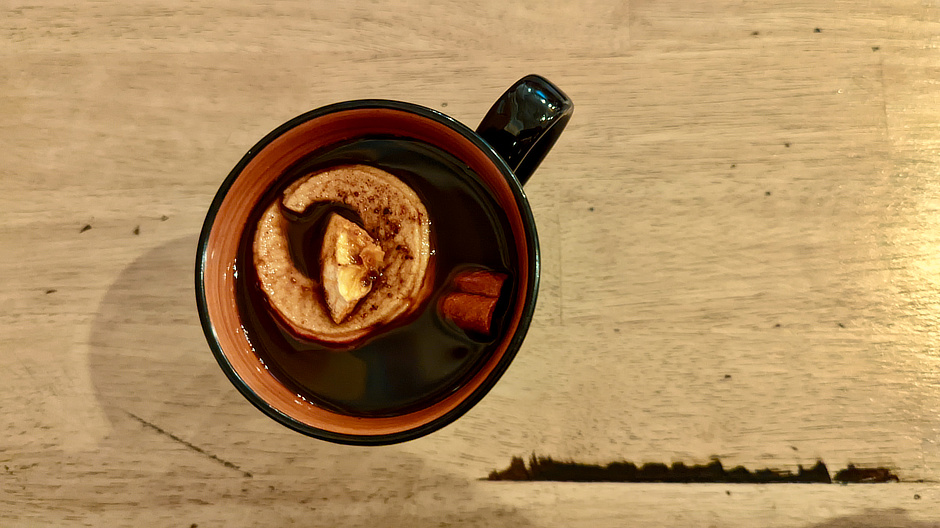 I don't regret spending a slice of my limited time with brother-in-law and his fiancée at Loon Liquor. The cocktail room was rustic and intimate, the hospitality warm, and the drinks tasty. For Maddie it was her second visit to Minnesota. Visiting a distillery named after the state bird seems funny in retrospect. Northfield has become a pocket of craft south of the metro, featuring three breweries and a distillery. Put them all on your list.