Most client meetings go well. In rare cases they throw me for a loop. I was standing in the parking lot of an office park, reeling from a meeting that just occurred. I wouldn't say it went poor, but it wasn't what I had expected or prepared for. I plugged "breweries near me" into Google Maps and put the car in drive. Time to decompress with a craft beer at Invictus Brewing Company.

Invictus has built a large warehouse bordering the National Sports Center in Blaine. That location means millions of people will drive by the grey building and wonder about the beer served within. And with a restaurant partnership, The Tipsy Steer provides a menu of brew food for the rest of the family. I didn't pay attention to the massive sports complex, my sights were set elsewhere.
It was late afternoon, not quite quitting time. There were a handful of people sprinkled throughout the wide open taproom. I grabbed a spot at the far corner of their long bar. It's a large room, most of it community tables, with a handful of high tops. Tables and chairs are consistent, metal frame and wood seats. They have an exposed ceiling that contains what appears to be plywood sheets.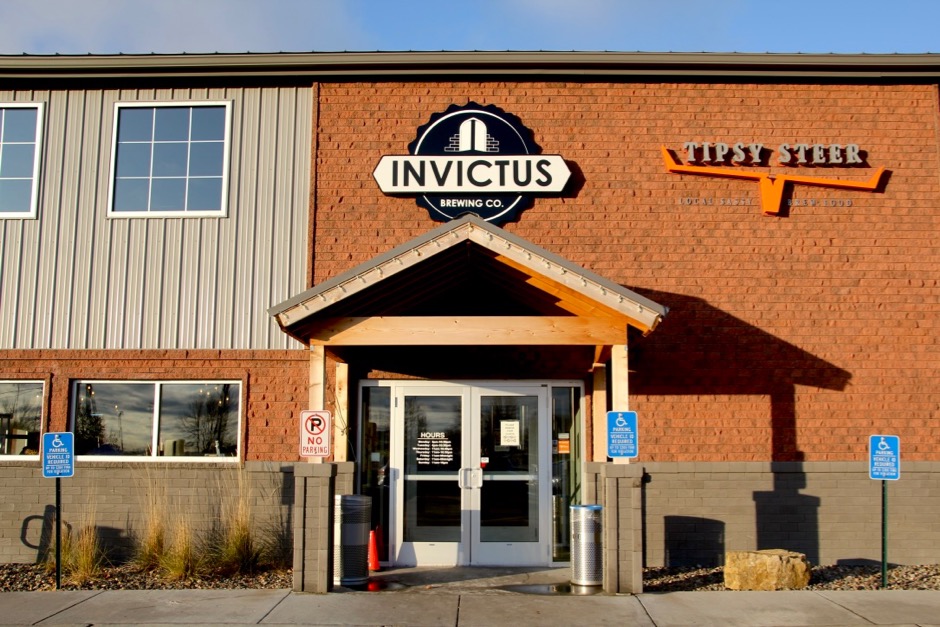 Those sheets are the visible layer of the Structurally Insulated Panels (SIPs) they use to create an energy efficient building. Owner Previn Solberg told The Growler that due to the insulation and the heat from the brewing process the building won't need much heating. Upon opening, there were also plans to install solar panels on the roof, but I was not able to confirm whether those are in place. It's refreshing to see businesses strive for sustainability goals.
I noticed their flight boards and put in my order. I was able to select four with only one of them from their specialty beer list. My choices: Captain of My Soul Kölsch, Kilted Pig Smoked Scotch Ale, Wifey White IPA, Hazy Crazy IPAzy NEIPA. I liked Captain of My Soul the best, awarding it one star. It hit all the right notes for me, malt forward with a sweet breadiness. Crisp and satisfying. Kilted Pig was interesting but the smoke wasn't as balanced as I'd like and overpowered the rest of the flavors. The IPAs were standard, nothing special, but well done and drinkable.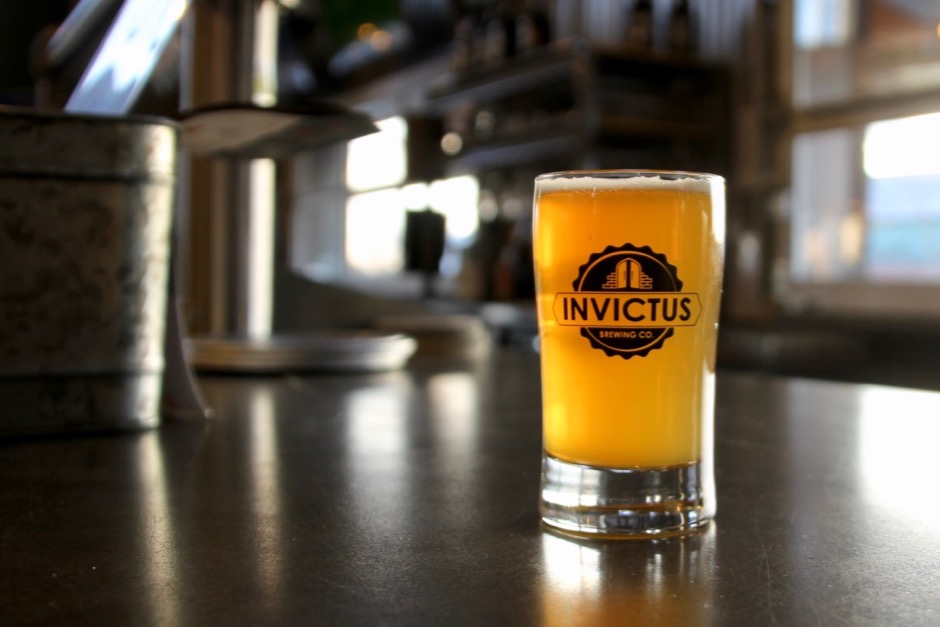 Every once and awhile I like to visit a brewery by myself. It provides time for introspection and thought and I notice things I wouldn't otherwise if I was talking. While I was writing my notes I overheard a conversation from the brewers about naming an upcoming beer as well as a discussion about the way they would hang a sign on the end of the bar. Both conversations were humorous to an observer and a nice window into the heart of the brewery.
The brewhouse is visible beyond a half wall that spans the taproom. A took some photos on the way to the bathroom and then noticed an interesting detail inside it. The roof of the bathroom is vaulted with corrugated steel. I later learned that the panels came from a farm in North Dakota. It might be the first photo of a bathroom I posted to the blog, but I had to capture this unique detail.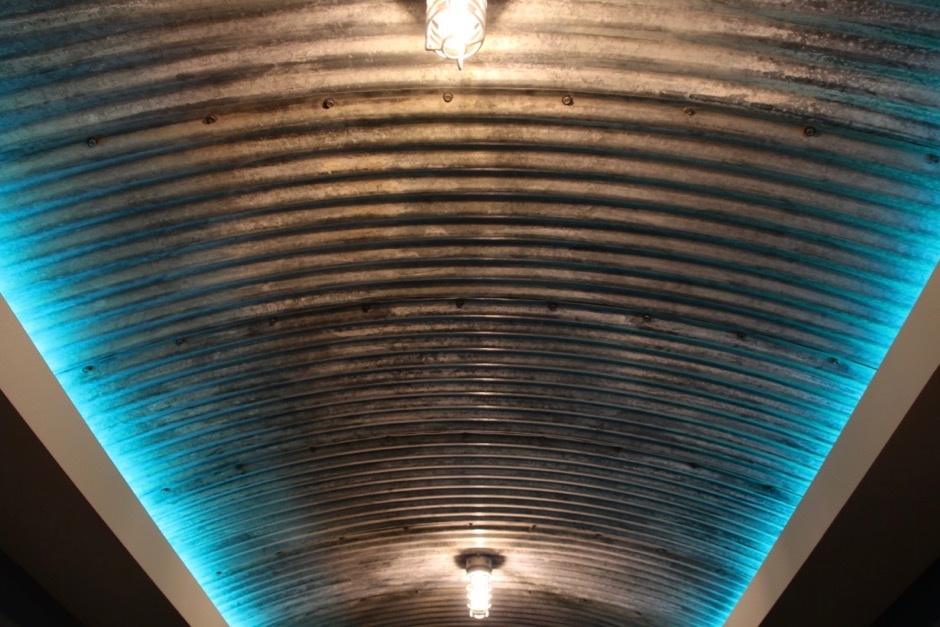 I wasn't able to stick around for more than a flight, but Invictus impressed me during the visit. There were 11 beers on tap with a range of styles. People were filling out the seats when I was packing up my things. Invictus translates to unconquerable in Latin. It's a reference to a famous William Ernest Henley poem of the same name. The poem covers Henley's approach to life and his personal struggles, thanking the gods for his unconquerable soul. A heck of a poem to model your brewery after!
Out of the night that covers me
Black as the pit from pole to pole,
I thank whatever gods may be
For my unconquerable soul.

In the fell clutch of circumstance,
I have not winced nor cried aloud.
Under the bludgeonings of chance
My head is bloody, but unbowed.

Beyond this place of wrath and tears
Looms but the Horror of the shade,
And yet the menace of the years
Finds, and shall find me, unafraid.

It matters not how strait the gate,
How charged with punishments the scroll,
I am the master of my fate:
I am the captain of my soul.

William Ernest Henley