My sister in-law told us we should avoid the Tenderloin neighborhood. They had stopped in San Francisco during a California road trip and their hotel was right in it's heart. The Tenderloin is a high crime area of the city. Not an ideal place for an evening stroll. But I'd heard fantastic things about Cellarmaker Brewing Company and the neighborhood lay between our hotel and the brewery. Despite the warning, we set course.

We've been to a lot of cities in the world. There are a handful of bad situations we've found ourselves in. Each time we've avoided trouble. They were never in bad neighborhoods. One was a block from Times Square, another within a block from Pike Place Market. We do our best to bypass what we can but in many cities they are unavoidable. Walking beside my pregnant wife was a different scenario than our past travels. Our biggest defense is walking like we know where we are going. That night was no different, a little sketchy, but a short hike and we had arrived at our oasis for the evening.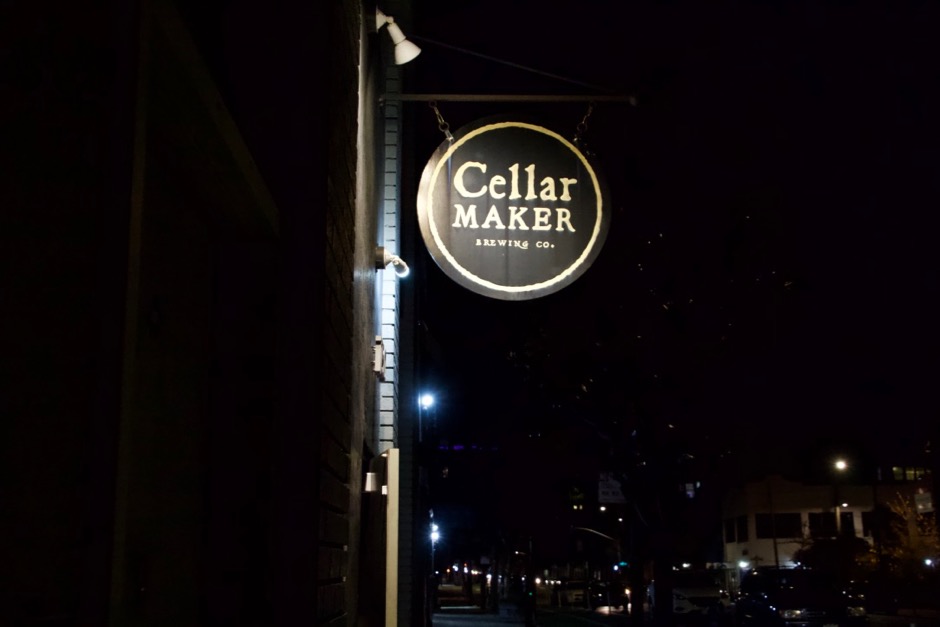 Cellarmaker is a small batch craft brewery. They were at the top of my list, backed by a ton of internet research. I love variety and Cellarmaker seemed to embody that ideal. They rotate their tap list with an array of styles, distribute local, and keep things fresh with unique flavors and combinations. I was eager to dig in.
It was dark. I've been in a lot of dark taprooms but this was another level. I struggled to read the tap list in my hand. Instead I used the large colorful version of it on the wall, even if it was a bit out of date. I battle with low light photography so you'll have to forgive the quality of the photos from the visit. My eyes adjusted and we settled in.
The taproom is small. Three community high tops, a small bar, and a couple of two person tables attached to the wall. One of those walls is red brick with a vintage mural; the other grey cinder block. Outside there is a small circular black sign with the brewery's name. Easy to miss at night. Behind the bar is a wood backsplash with 15 tap lines. Thirteen beers were available. Four of them were pale ales, a strange sight with modern craft beer trends.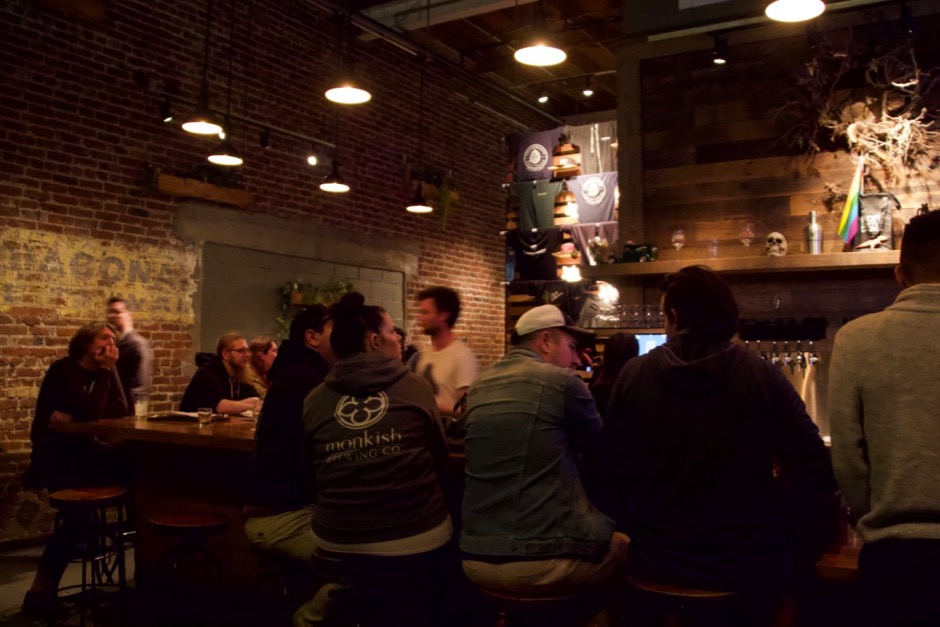 I tried Mild Smiles, FUBAR 2, and Repeating Symbols. Mild Smiles was a 3.3% ABV mild on nitro. At that alcohol level it disappeared and I would've enjoyed a touch more malt flavor. FUBAR 2 was a fruited smoothie ale that was creamy, tart, and fruity. Notes of peach, nectarine, and mango – stone fruit on steroids. I loved it. With four on tap, I couldn't leave without trying a pale ale. My choice was Repeating Symbols. It was full bodied with a tropical fruit aroma. A touch of spice and pepper with a finish that was clean, bright, and crisp. Delicious. Both FUBAR 2 and Repeating Symbols earned a star in my tasting notes. Two out of three is a wonderful ratio.
We enjoyed our time at Cellarmaker. I couldn't taste them all, but the beer was high quality and flavorful. The taproom was intimate, something I appreciate and desire. My preference is a quiet space for wonderful craft beer – Cellarmaker delivers. Next time I would visit during the day. Looking at photos online you can see their taproom awash in natural light. That's something we missed. We took a bus back to our hotel – not wanting to risk an even later walk through the Tenderloin. Next time I'd take a bus there. It would give me time for an extra beer.