"Anyone want to grab a drink before dinner?" I asked as we shuffled into the elevator. We'd arrived at our hotel, the conference would begin the following day. "I would," Jake replied. "When?" Jeff asked. "I was thinking right now, but whenever you're ready," I responded. "I can be down in fifteen minutes," said Jeff. Our welcome to Orlando would be through a craft brewery. I wouldn't want it any other way.

"What should I get?" Jeff asked. We were in line at Half Barrel Beer Project, the closest brewery to our hotel. Half Barrel wasn't on my radar of places to go, but when you're pressed for time you make it work. "What do you usually like?" I asked. When you're seen as an "expert" by your friends and family this is a question you get asked a lot. There's no secret to recommendations. A place I'm familiar with I can handle, but a new brewery? I've got no idea what's good. Usually the person asking has a specific style in mind and then I point them towards the beers that are close. More often than not the person is looking for the "lightest" beer.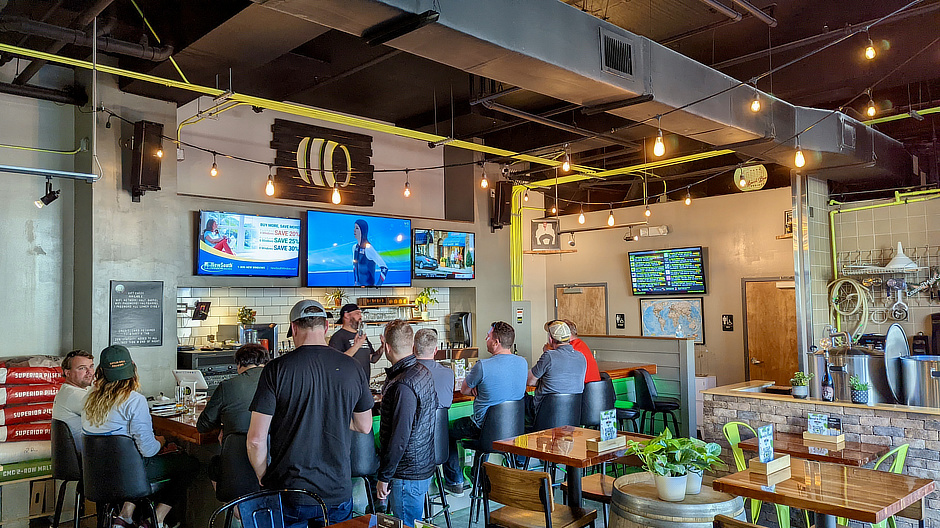 In this case, Jeff was looking for an IPA. When I get a broad category I ask what specific beers they drink. For an IPA, it tells me if they are looking for something traditional, dank, hazy, etc. It's enough for me to find a few beers adjacent to their palette. In some cases I try to broaden their horizons or buy them one to try, assuring them that I'll drink it if they don't like it. It's my own expression of nudge theory.
Half Barrel brews their own beer, but most of the beers on tap were from other breweries. They also double as a bottle shop. Only three of the beers on tap were theirs. I made sure to note this in my recommendation to Jeff, but pointed him towards the IPAs that matched his desires. I got three tasters of the beers brewed on-site and joined the group at the high top.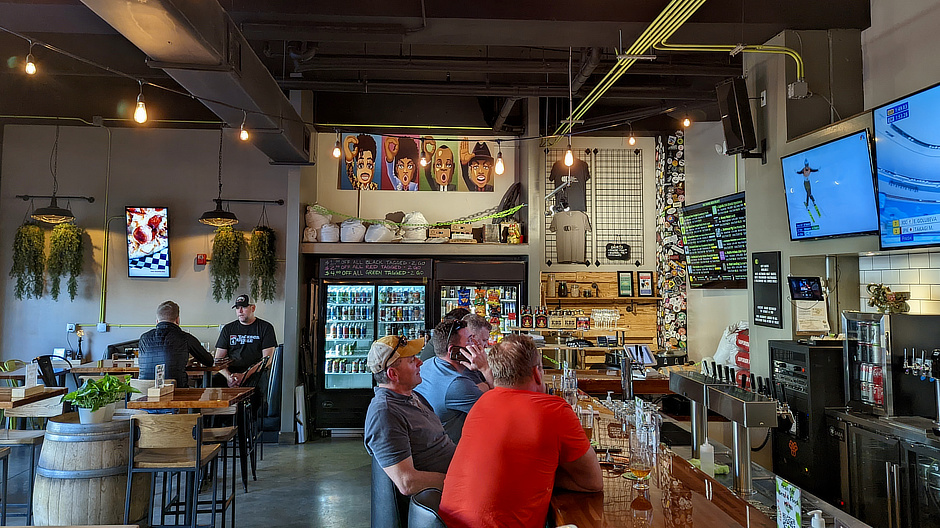 I've got a few craft beer quirks, one of which is my affinity towards small taprooms. Half Barrel's fits the bill. Tucked in the corner near the door is a small pilot system. Anchoring the back wall is a bar, which fills a third of the room's space. A handful of high tops make up the rest, room for 20 to 30 people. Their brand has prominent neon green features and their tubing matches, which draws your eyes around the room.
The three beers I had were:
Strawberry Fresh – a bright pink fruited sour. Tasty, juicy, and delicious.
Back Porch Lager – heavy on the sweet malty notes. It grew on me.
Once Upon a Time In Jonesville – a smoky American Porter.
Half Barrel was a good introduction to Orlando. If you're in the area for a conference it's worth stopping in and tasting whatever's fresh. It's got the vibe of a home brewer's passion project, and the beers were average to above average. And if you're short on time they have other local craft beers on tap so you can give a bunch a try. You can even take a few bottles to go.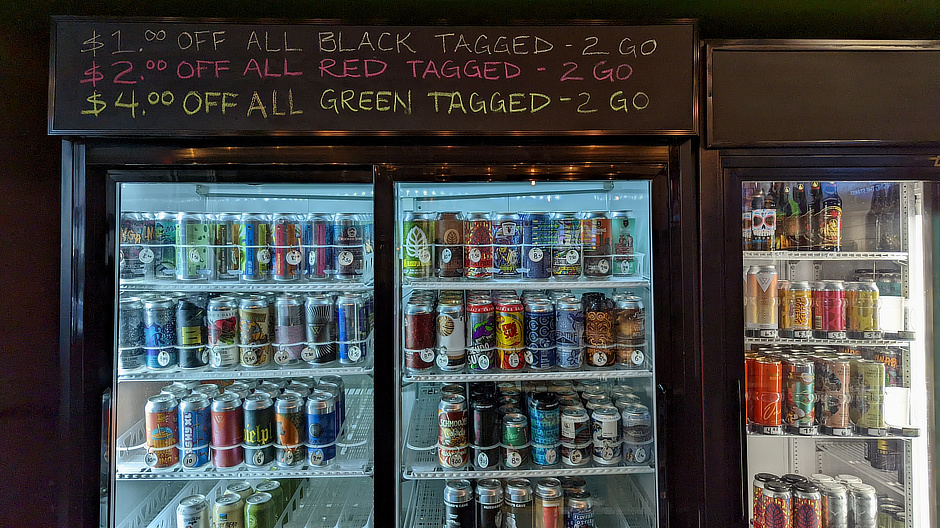 ---
"I'll go with you today," said Jake. The shuttle bus hummed into gear as it departed the conference center. It was the last morning walking the floor. My feet were tired and mouth parched. I had aspirations of visiting a different brewery every night in Orlando, but clients and coworkers got in the way of those plans. The new plan was to hit a few on my list on the final afternoon and evening. "Where are you thinking of going?" asked Jake. "There are a few on my list but I was thinking of starting at Sideward," I responded.
---
"I'll sit in the sun," I said, angling the chair to put the sun at my back. We'd arrived at Sideward Brewing, an occult themed brewery bordering Orlando's Colonialtown South Historic District. Like so many before them, they've repurposed a 100-year old warehouse into a brewhouse and taproom. While they've got occult themes, I appreciate that they don't hit you over the head with it. White and black decor, accented with a tinge of gold. Their logo appears to be a third eye, and a pseudo-whimsical grim reaper appears in a lot of their artwork. That whimsy bleeds out of their tap list, with names like Voodoo Pony and Space Wizard.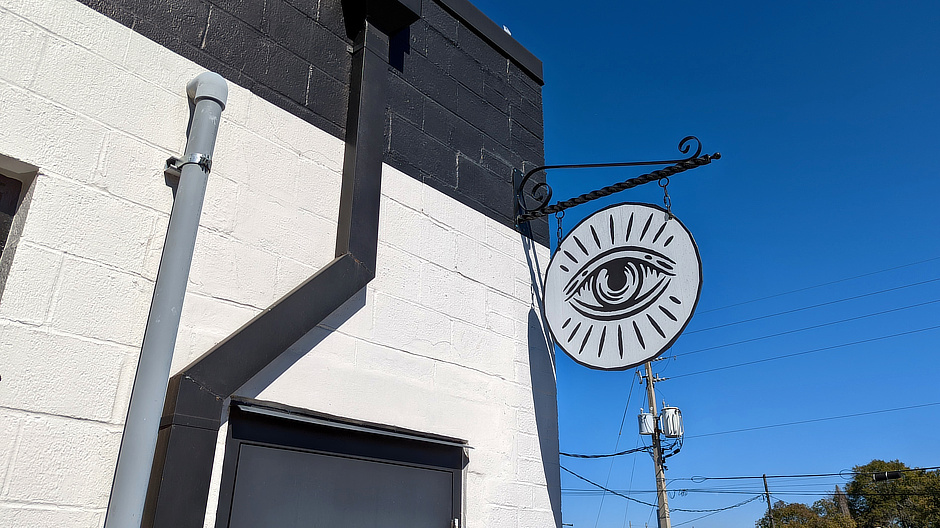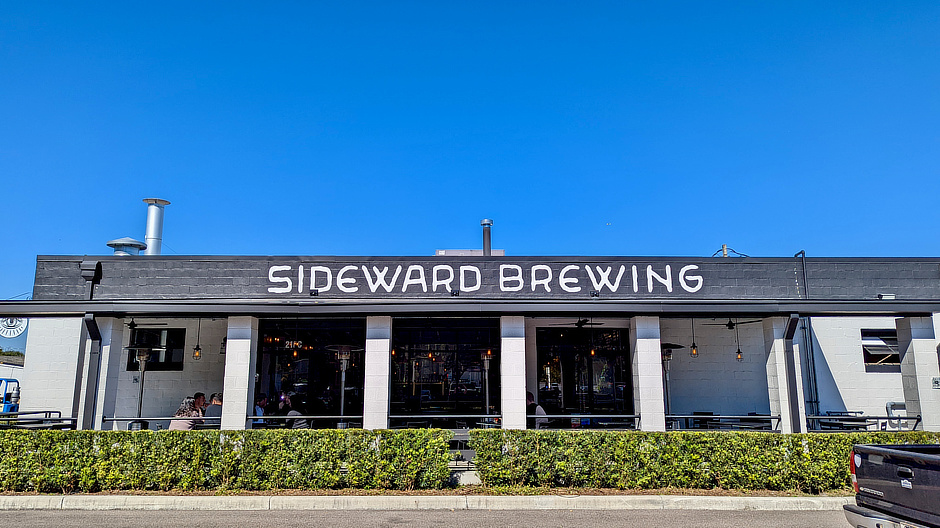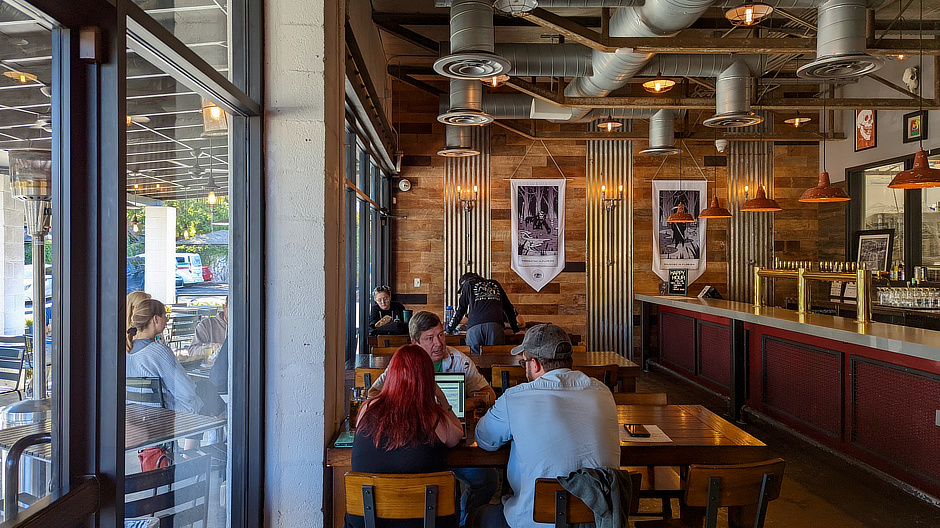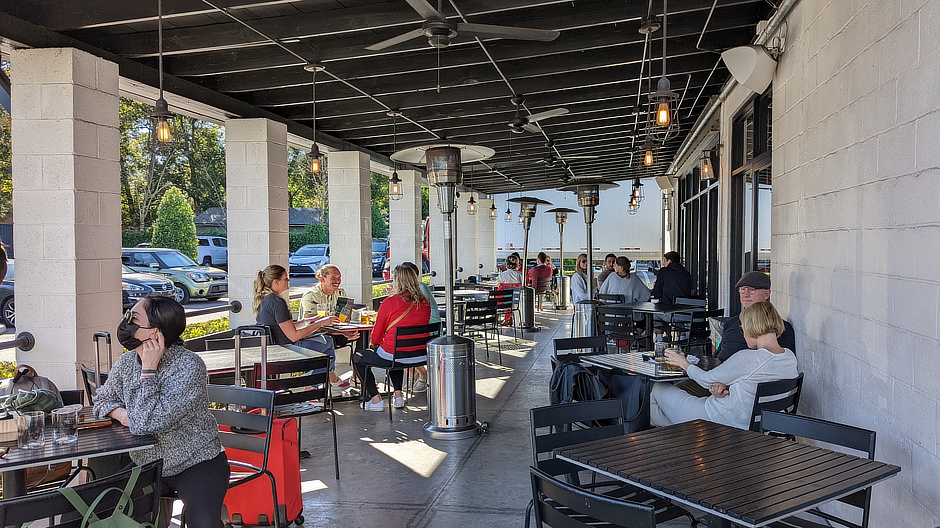 It turns out that seventy degrees with the sun at your back is the perfect recipe for craft beer. Our timing was perfect. We arrived after Orlando Beer Week, so a handful of specialty beers were still available. When it was all said and done I tasted six.
Cherry Sherbet Sour – well balanced between sweet and sour, not too heavy on the cherry.
Mac 'n Cheesecake – a wheat wine brewed with macaroni noodles. Great notes of macadamia nut, vanilla, and cream cheese.
Yacht Money w/ Phantasm – a NEIPA with a massive amount of hops. A bit of burn, but not out of place at 8.3% ABV. Juicy and aromatic.
Friends & Enemies – a coffee milk stout. Great roast and chocolate notes.
Toast du Jour – a bourbon barrel-aged stout with notes of maple, vanilla, cinnamon, and honey. Tasty!
Heir of Kings – a sweet and sticky barleywine aged in Buffalo Trace barrels. Only had a taster, but it was excellent.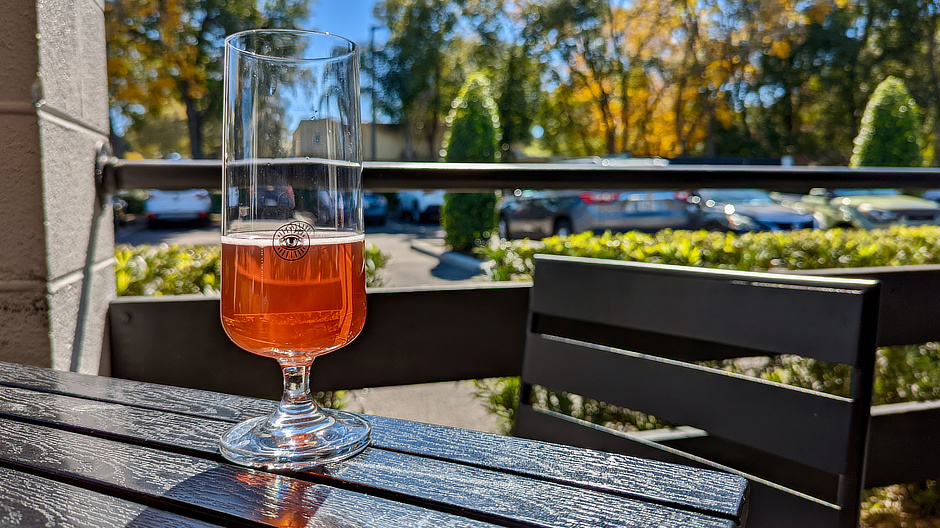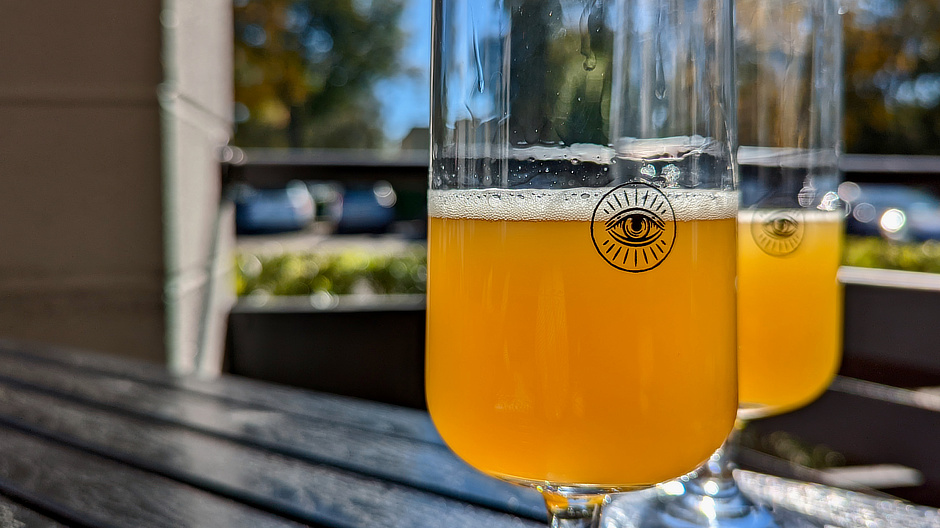 ---
"How far did you say it was?" asked Jake. We were walking west on Robinson Street towards the next brewery. "It should be right up here," I said. After six beers in the sun, distances on maps look shorter than they are in reality—that's a fact. Especially when you're walking. A block later I pointed out the white Mission style building that was our destination. "What was this place called again?" asked Jake. "Persimmon Hollow," I replied.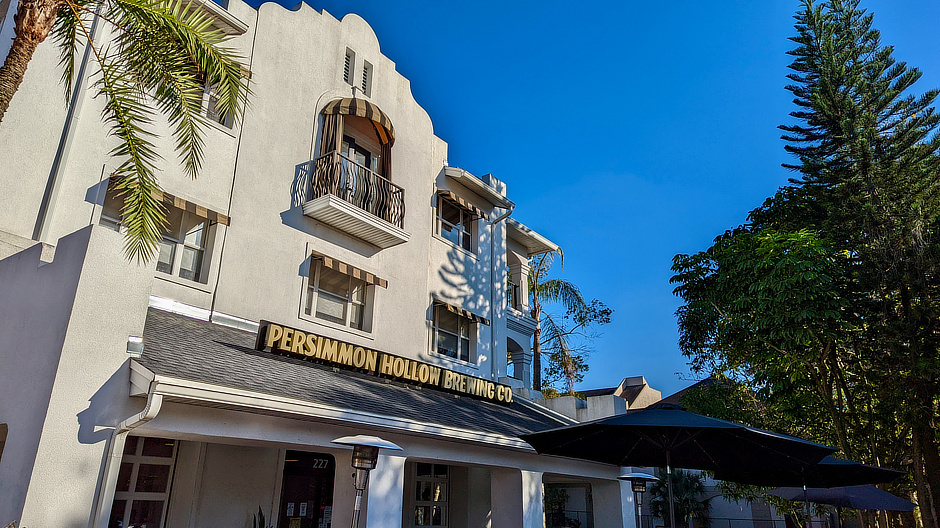 Persimmon Hollow is a brewery founded in nearby DeLand, Florida. It has since expanded to four taprooms. This phenomenon always catches me by surprise because in my home state of Minnesota, this activity is illegal. A brewery in Minnesota can only have one taproom. They can have multiple production locations but only one place can sell beer direct to consumers. It's also against the law for them to have any ownership stake in a brewpub, which has a license to get around this limitation. This law is silly because it inhibits the growth of small local businesses. Since the original intention was to protect them, it doesn't make any sense anymore. Before Prohibition, tied houses were common throughout the country, allowing large breweries to control every link in the chain of alcohol production and sale. Under this context it makes sense to introduce a three-tier system. It now protects the same large corporations it was meant to regulate.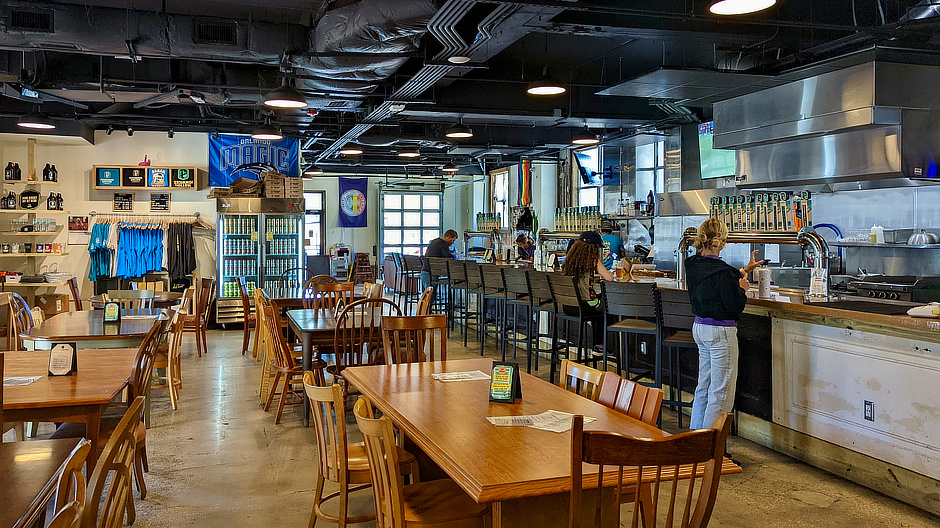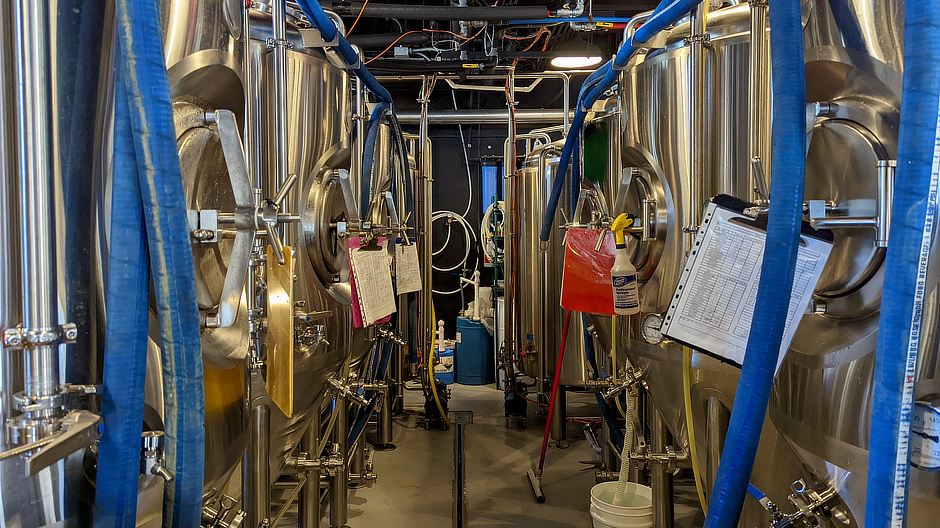 The inside of Persimmon Hollow has a long bar that stretches almost the length of the taproom. The brewhouse is in the corner with rail seating separating it from the rest of the room. A collection of wooden tables and chairs make up the bulk of the interior seats. "Do you guys have flights?" I asked. "Yes we do, pick four and let me know when you're ready," the lady responded as she slid me a piece of paper to make my selections. While choosing their Leisure Lap Lager, Unforgiven Dunkel, Beer Cuddlz Hazy IPA, and 3 Wise Guys Porter, I admired their tap handles. They, as well as their glasses, feature a vibrant turquoise. I'm biased because I've come to discover this is one of my favorite colors, but it pops on a beer glass. Once poured, I went out to join Jake outside.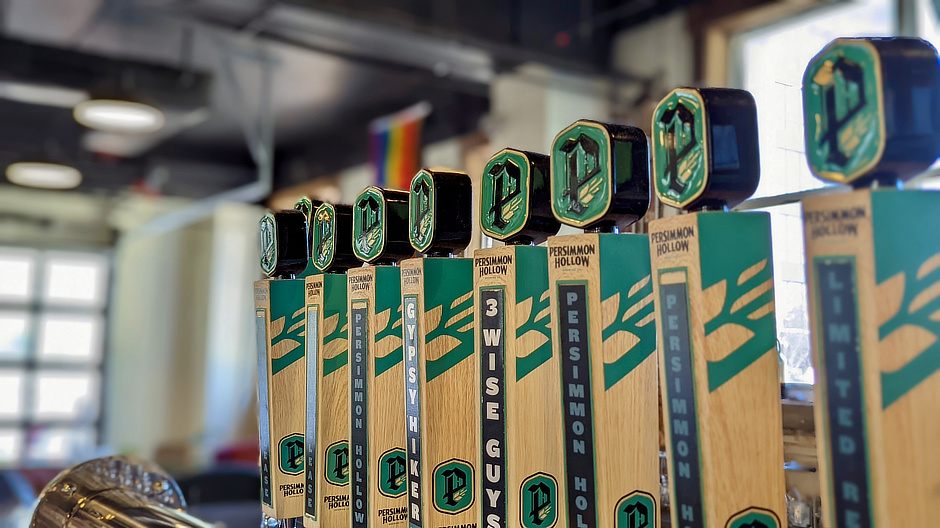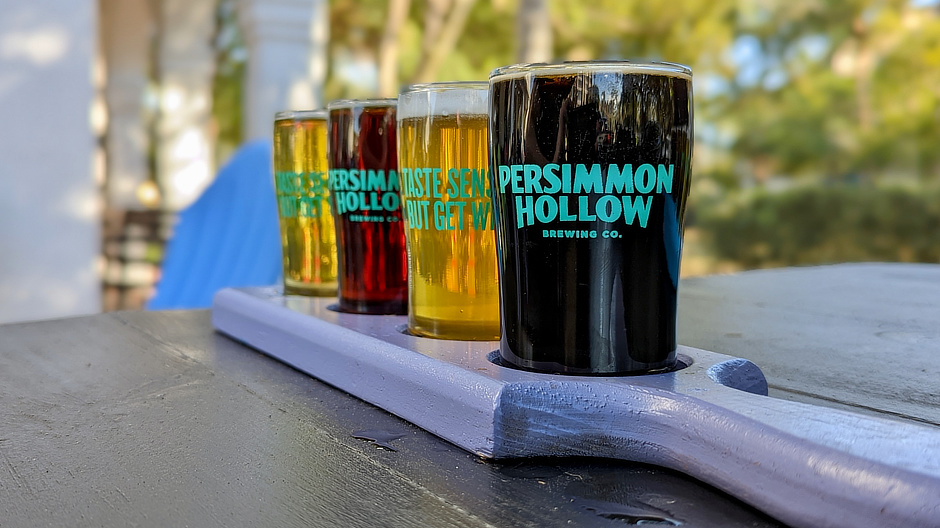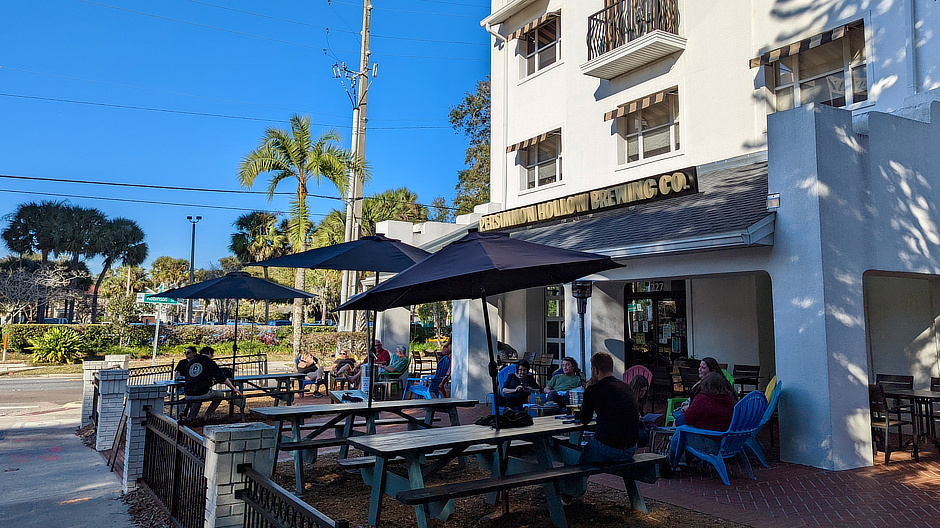 Persimmon's patio starts beneath their front arcade. The pavers push it out into their front yard and the rest of it wraps around to the side of the building. The side is private and quiet, while the front was where most of the patrons were sitting. We sat on a picnic table in the front and people watched. The taproom is across the street from Lake Eola Park, a busy area for pedestrians and cars alike. Not a bad spot to watch the sun go down in Orlando.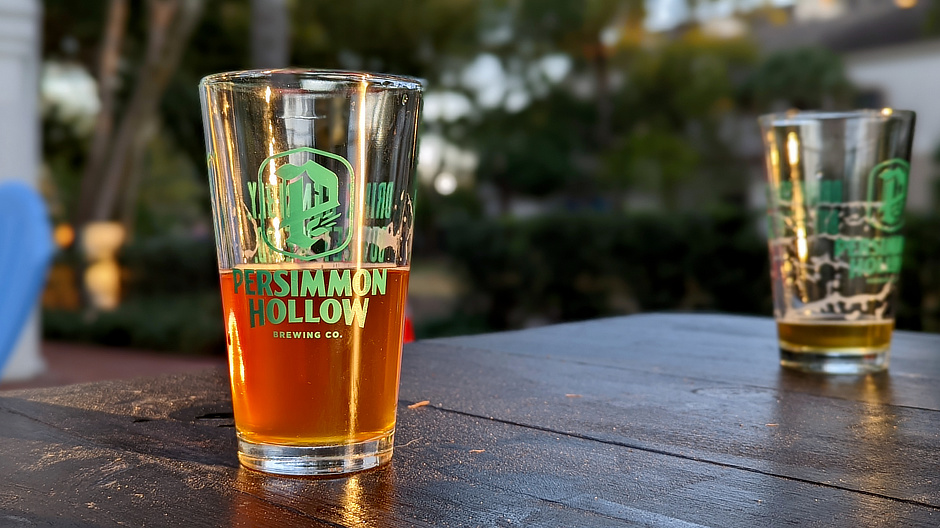 ---
There was one last brewery I wanted to visit before we called it at night. The "top breweries in Orlando" lists mentioned them a lot when I was researching the area. "It's right here," I said to the driver, my eyes watching the map. We stepped out in the parking lot of Rockpit Brewing, a warehouse transformed into a rustic taproom. Grays and browns create the color palette, with wood, metal, and stone the primary materials. Their logo leans hard on the Rockpit theme, with crossed pickaxes and a hop cone wearing a miner's hardhat. A detail you may overlook during the day: their sign has a real light on the hardhat. I kept the flight trend going with four beers:
Gold Strike – an aptly named golden stout. One of my favorite styles with notes of coconut, vanilla, and coffee.
Reese With Her Spoon – an imperial brown ale brewed with Reese's Puffs cereal. Sound good? It was.
Always Sunny – a dry saison, light at 4.3% ABV.
SoDo Blondin' – a standard light and crisp blonde ale.
We sat next to the open garage door. I wouldn't say it was a warm night, but with the knowledge that we'd be flying back to February in Minnesota we were holding on to whatever heat Florida would offer us. After awhile they closed the door—too cold for the Floridians. It felt like a sign. A ceremonial end to our trip. We ordered our last ride and downed our beers, resigned to our fate. Orlando gave us a short reprieve and we took full advantage.