We had checked out. Our road trip took us through along the entire north shore of Lake Superior. Through Ontario, into the upper peninsula of Michigan, and then the heart of Wisconsin. We'd been going downhill the past couple of days, putting miles behind us in our quest to return home. Eau Claire was our final night and The Brewing Projekt was a "bucket list" brewery that we had to visit.

I heard whispers of The Brewing Projekt through various collaborations with Minnesota breweries. They flashed onto my radar when @ilovebeerfromhere.mn featured the destination on their Instagram story. I had to visit. A large open taproom, riverside lawn, and a rooftop patio. How could you resist? Anticipation mounted as we wound our way through Eau Claire's back roads.
The first thing I saw was the mural. A vibrant hop cone fills their back wall. Sporting every color of the rainbow, local artist Dez Lezotte (@dezlezotte) funnels a trippy galaxy of blues and blacks into a hop cone bursting into a rainbow of colors. It's meant to represent the imagination and innovation taking place within the building, and it's doing a fine job of it.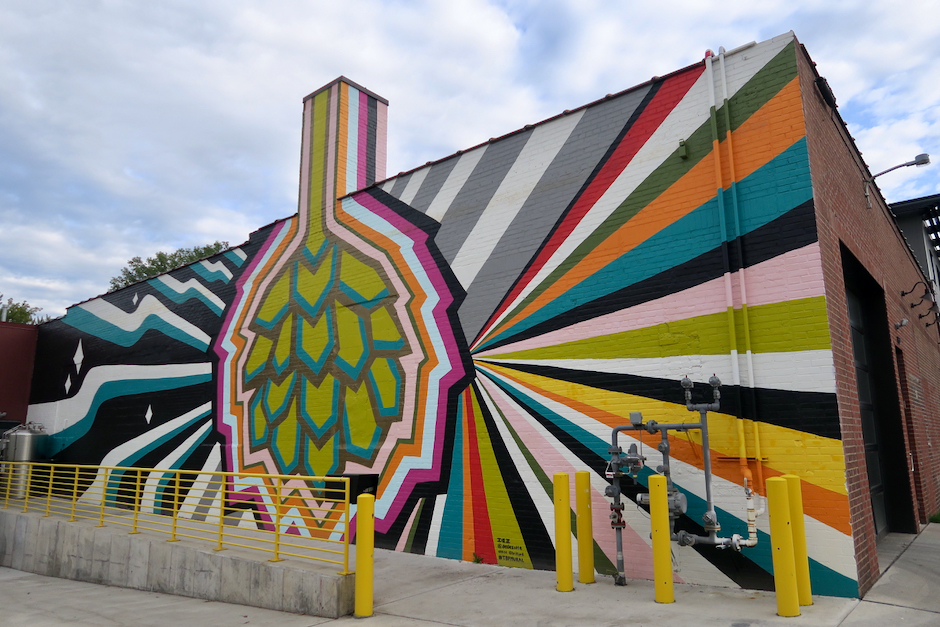 Entering the building is liking reading from the definition of "destination taproom." A row of barrels leads you to their cavernous space with concrete floors, red brick walls, church pews, and dark steel girders. A horseshoe shaped bar anchors the room and features a crowd of people delving into their extensive tap list. The overhead lighting is subdued and garage doors provide natural light and allow access to their patio. A streak of orange is prominent throughout the building. The only thing left is to fill their brewhouse. It's sparse with plenty of room to grow.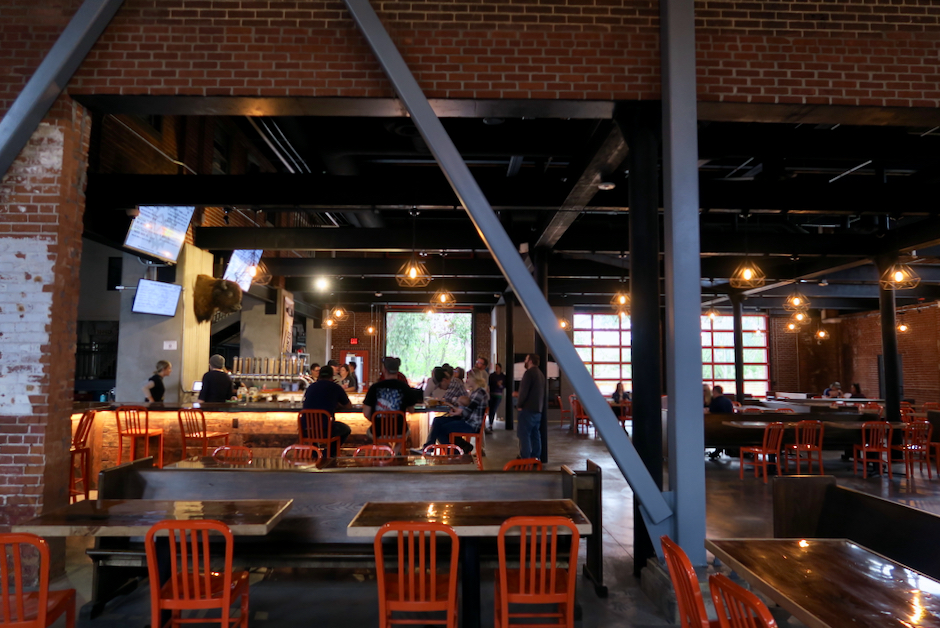 Before ordering beers we scoped out the patio and secured ourself a barrel in the corner of their lawn. We knew that we couldn't stop our daughter from toddling around and we didn't want to burden anyone. After pouring over their tap list, I retreated inside and put in an order for two flights of beer. Only three beers in a flight – the minimum to be considered such – is a curious choice with the size of their menu. I'm guessing it speeds the ordering process. You can always return to get another.
While my wife shepherded our daughter I took a trip upstairs. Their rooftop is on the third story overlooking both the river and the patio. It's laid back, with Adirondack chairs, string lights, and black patio furniture. And it's young. I didn't see a single person over the age of 30. The nature of the seating gives it more of a lawn feel than a patio. My suggestion to Brewing Projekt would be to add high tops to take advantage of the rooftop and provide the ability to see the river and patio below.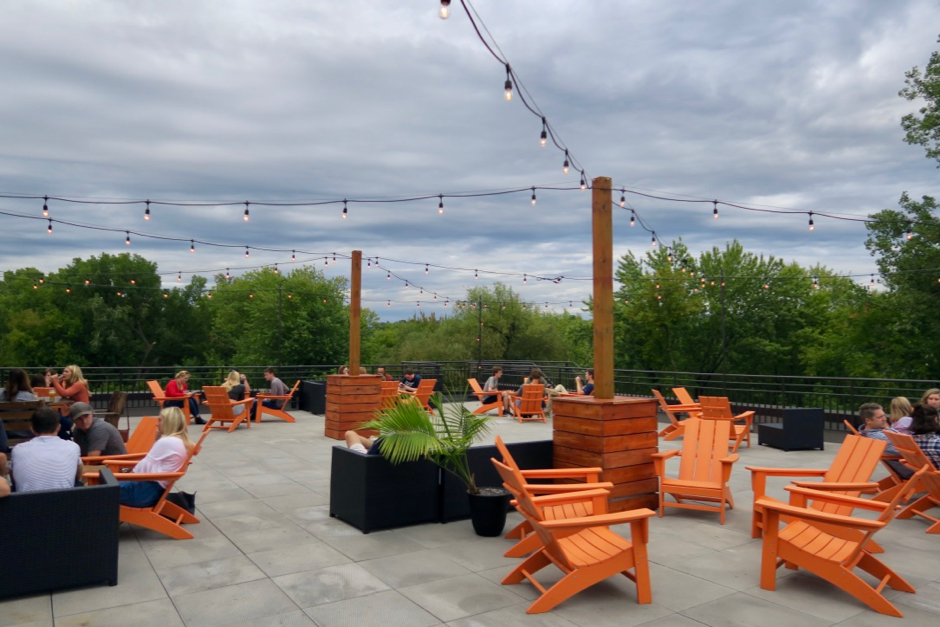 I returned to my family, and my flight. By the end of our visit I would try seven of their beers. There were 20 options, I chose the following:
Bounce Bounce Clap Clap, Sour Milkshake DIPA w/ Raspberry, and Lemon Puree
Resist: Peaches & Cream, Milkshake IPA w/ Citra, Mosaic, Lactose, Vanilla, and Peach
Berryz Puff Tart, Kettle Sour w/ Raspberry, Blackberry, Blueberry, Lactose, and Vanilla
Mejor Vida!, Mexican Lager w/ Orange Blossom, Honey, and Motueka Hops
Resist: Mango Smoothie, Milkshake IPA w/ Mango, Orange, Apple, Banana, and Lactose Aged on Vanilla
Weird Tiger, Sour DIPA w/ Citra, Mosaic, Simcoe, and Passion Fruit
Resist: Piña Colada, Milkshake IPA w/ Coconut, Pineapple, Lactose, Aged on Vanilla
That's a lot to unpack, but the end result is a lot of fruity and curious beers. It's hard to choose favorites. The notes were succinct and each beer delivered on them. No false advertising. They brew their Resist line of Milkshake IPAs with lactose and vanilla. The best of the three I tasted was the Piña Colada variant. I'm a sucker for coconut and this one had a blast of it up front tempered by a light pineapple finish. Despite the IPAs, DIPAs, Milkshakes, and Sours, my top beer was a lager. The Mejor Vida! was light and delicate with a sweet and creamy malt body. Crystal clear, snappy, refreshing. It was a good palate cleanser between my other beers and I hope to see more lagers on their menu the next time I visit.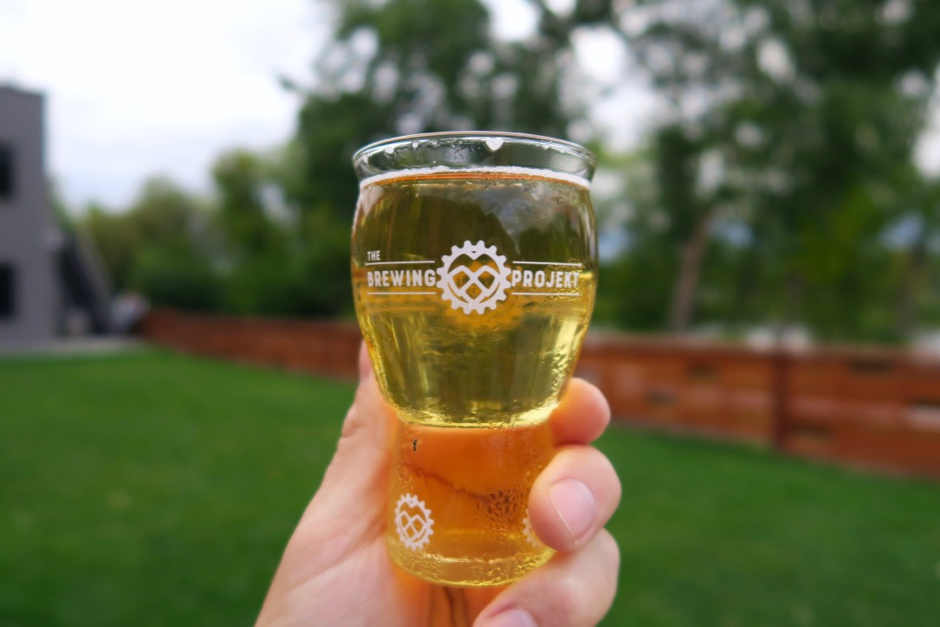 A couple of other notes. They are right off a multi-use paved trail that borders the Chippewa River. They are family friendly. Our daughter met several other children on their lawn and – while they outpaced her – it kept her occupied. I overheard a woman in line for beer tell her companion she was going to ask what a "Dippah" is. After a bit of processing, I informed her that it was a Double IPA. A good reminder that not everyone is into craft beer as much as I am. It was a delightful visit to Brewing Projekt. I went in with high expectations and they exceeded them all. My suggestion is to take a trip to Eau Claire, it's not far and it's worth it.