There is no better pit stop than a craft brewery. We'd been driving for hours after departing Sault Ste. Marie and were about to touch Lake Michigan. After that, we'd plunge into the interior of Wisconsin. The stars aligned when we drove into Manistique, Michigan and spotted a small spit of land housing the Mackinaw Trail Brewing Company.
Mackinaw Trail has a small cedar shake shack on a harbor on the northwest side of Lake Michigan. They are the brewing outpost of the Mackinaw Trail Winery & Brewery. The brewhouse is located across the parking lot from their tasting room. The bartender welcomed us into their charming taproom and slid us a pair of menus. While my wife began consulting on her wine flight, I took stock of the room. It features wide wooden floors, wine barrel tables, decorative metal stools, and a corner stacked with bottles of wine. Despite the name, this seemed to be a winery first and a brewery second.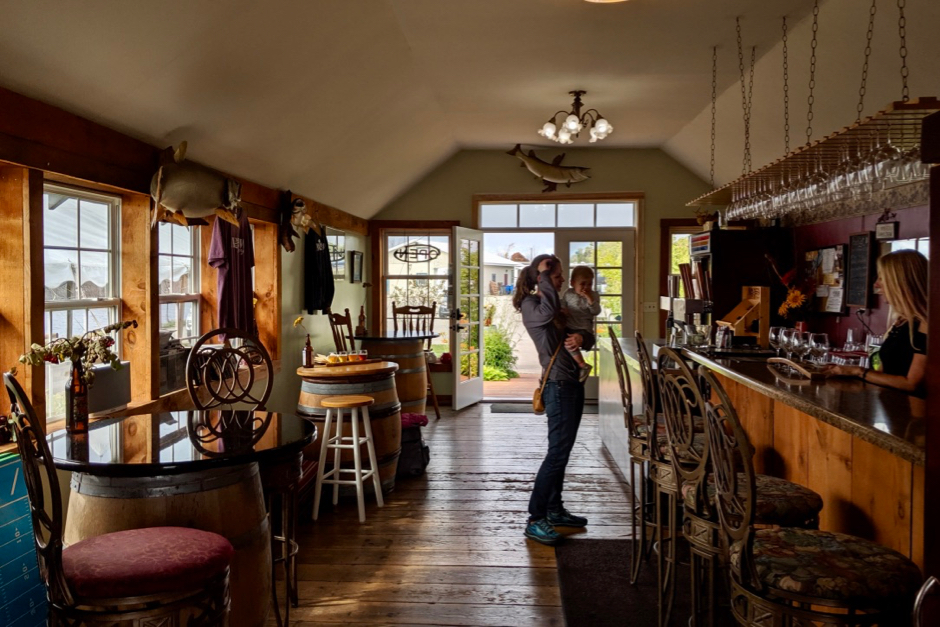 It was foggy and raining for most of our drive, but the clouds parted and blue skies appeared after we arrived. Our daughter was in rare form. She found sturdy legs on our trip and was ready to burn some cooped up energy. We were the only couple for the majority of our visit so we let her tour the room. It pleased the bartender to have a little one to dote on and we shared stories of our trip and of her travels with her – now college aged – daughter.
The outside of the Mackinaw Trail taproom is where things shine. The taproom is cute enough but they have an expansive lawn and dock full of seats. Who doesn't like lakeside views with a craft beer in hand? For those that aren't familiar with the great lakes, they are big enough to have tides. That causes regular flooding of their lawn which the bartender mentioned was under a foot of water earlier that morning. Because of this, we couldn't let our daughter toddle around on her own. She would have gotten soaked. But it satisfied her to hold hands and explore.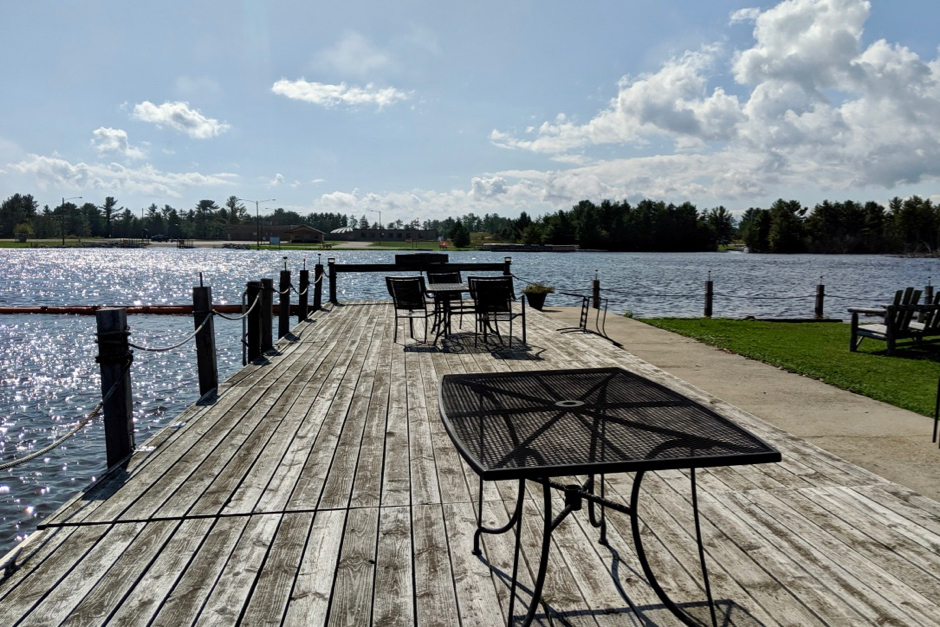 I had a flight of four beers and followed it with a half pour. The beers were:
Bear Creek Amber
Hillbilly Sweatpants Breakfast Pilsner
Rockin' and Reelin' Wheat Ale
U.P. Yours IP'eh
Jesus Should Have Made Beer Imperial Stout
Their tap list was full of humorous names; someone is having fun. None of the beers were remarkable but there weren't any bad ones in the bunch either. My first impressions led me to believe that this was a winery that tacked on a brewery to jump on the craft beer bandwagon. I no longer think that's the case. If it was I would expect a beers of standard styles. An amber, a brown, a stout, an IPA, and maybe a fruited Berliner to bridge the gap to the wine. Instead they seem to be stretching and innovating. My favorite beer was their Hillbilly Sweatpants. Brewed with Captain Crunch and Fruit Loops, this "Breakfast Pilsner" smells like cereal and tastes like it too. The flavors pair quite well with the pilsner malt. Not a beer I'd find at a brewery that was padding their tap list.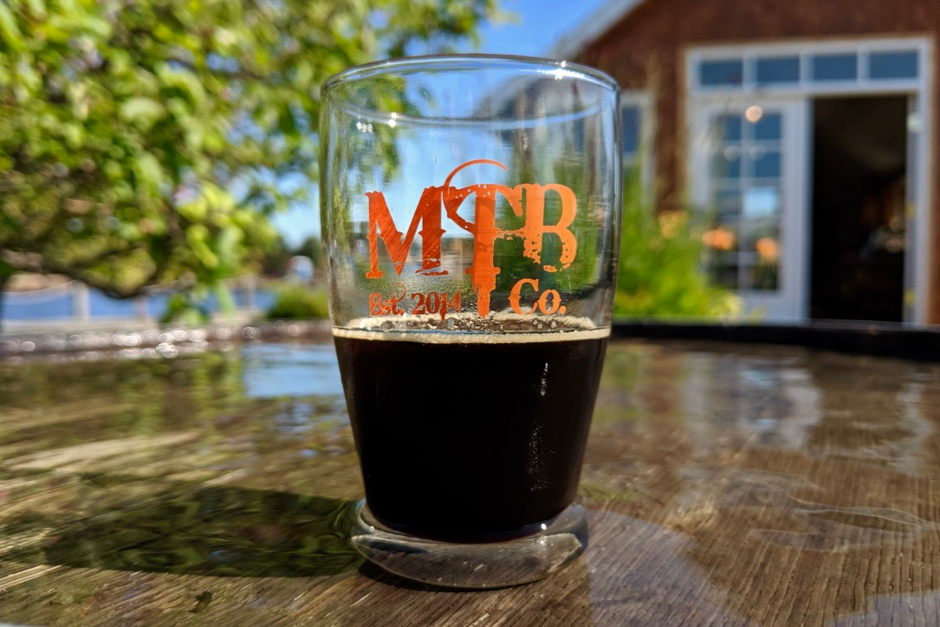 Once our daughter started to rub her eyes we finished our last sips and began to pack up. Our time at Mackinaw Trail was pleasant. They have a quaint tasting room with lovely outdoor seating. My wife enjoyed her wine flight. She likes beer but I usually find her pouring a glass of wine at night. It's good to visit a place that has both and they've got cider on tap as well. There aren't a lot of options for craft beer and wine on the upper peninsula of Michigan. But they've got Mackinaw Trail and, for that, they're doing alright.