"Should we stop somewhere on the way up?" my friend Sean asked. Everyone knew the answer before he finished. It's one of those quirks of conversation that seems required regardless of the circumstance. We had finished loading our gear into the car and were about to settle in for a long drive. Our destination was north central Minnesota, near the source of the Mississippi river. And when you're traveling with a handful of craft beer lovers, you make pit stops at every brewery you can find. "How about Jack Pine? I haven't been to their new taproom yet" I responded. There was no protest.
All photographs for this post were provided by good friend and talented creator Jason (@jasonsjourney.mn).
The last time I visited Jack Pine they were jammed in a small warehouse outside Baxter, Minnesota. It was an early stage craft beer taproom, nestled within the brewhouse and spilling out into the parking lot. Rough and raw, in many ways these places set the course for taproom decor that pervades to this day. Take the humble garage door, open in good weather and closed for poor. It's a brewery staple, but it was born from necessity. Low rent with large space comes with garage doors. When you bootstrap a taproom you use what you've got. Even in new construction, this genetic code lives on.
What I remember most about that original visit was how impressed I was with their beer. I didn't have the palate I do today, but even early craft Ryan knew there was a quality difference. It was a watershed moment. I was also struck by how busy they were. Baxter isn't tiny, but it's no metropolis. Yet locals packed the taproom, every square foot of concrete filled with folks tasting their latest brews. It felt like we were all in on a secret, one we'd be happy to share with our closest friends and family. For that reason, it was fitting that I'd return with a group of friends I met and made through the craft beer community.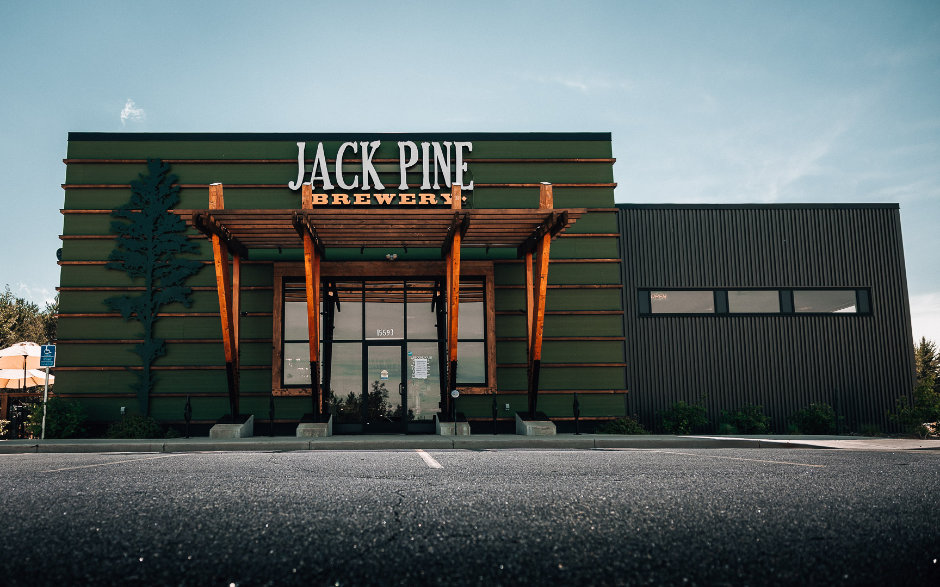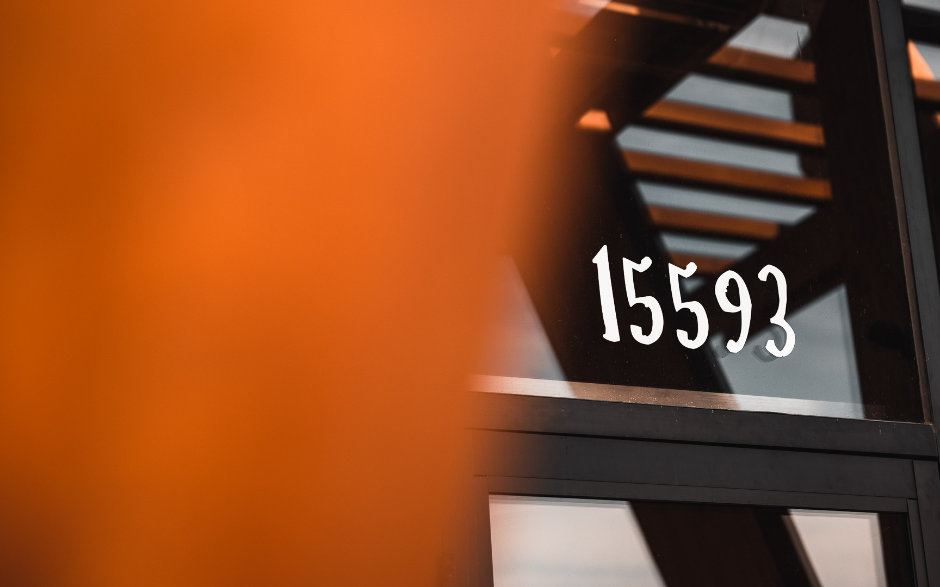 I knew Jack Pine opened a new spot, but I hadn't thought much of it. I figured they expanded like most rural breweries, building out their current space or graduating into a larger one with room for a bigger taproom. Rolling up to their new location shocked me. A modern metal clad building, pleasant forest green with a timber framed canopy at the door, their logo standing proud above, and a large silhouette of their namesake jack pine. Craft beer built this.
Our initial thought was to take our beers outside to the patio. They've got a small railed in area connected to the building with seating that spills out onto the yard behind it. We chose a picnic table on some wood chips near what will become their stage. There's a lot of room to spread out, I expect on future visits this area will look different. We didn't last long. It was the middle of a heat wave and the oppressive sun chased us to a high top inside.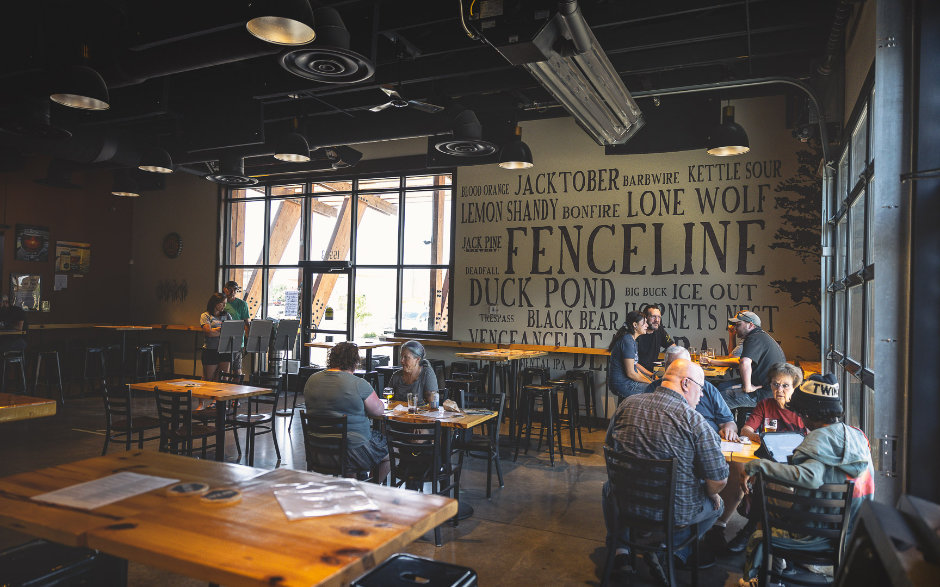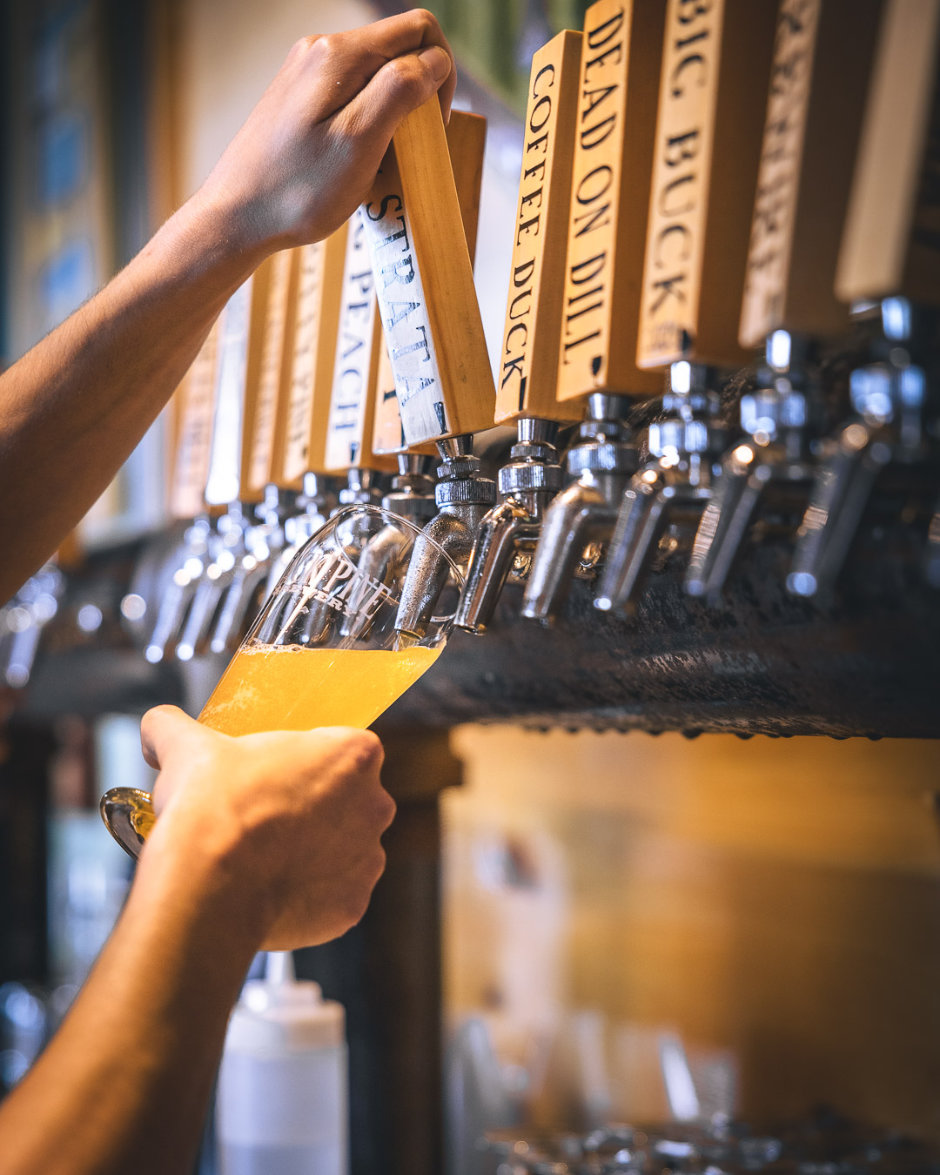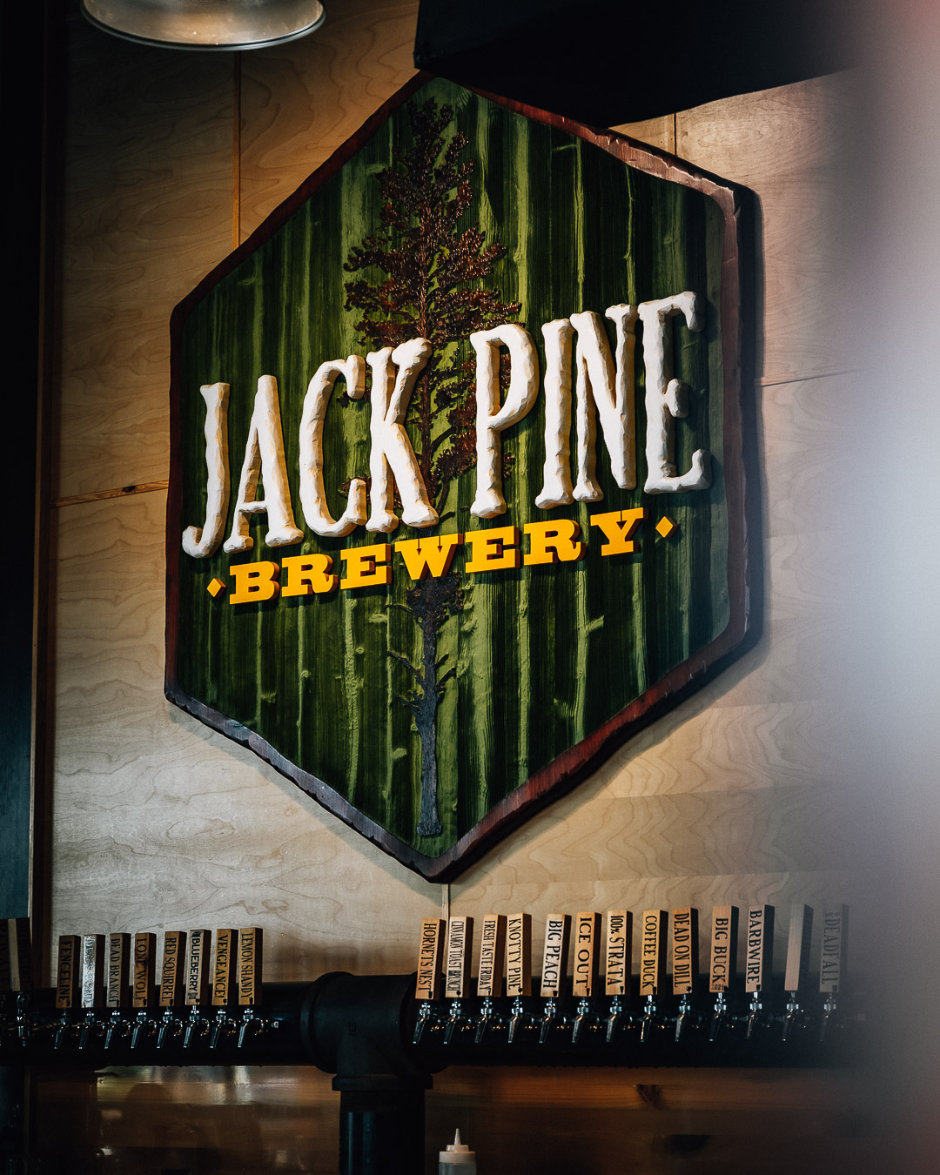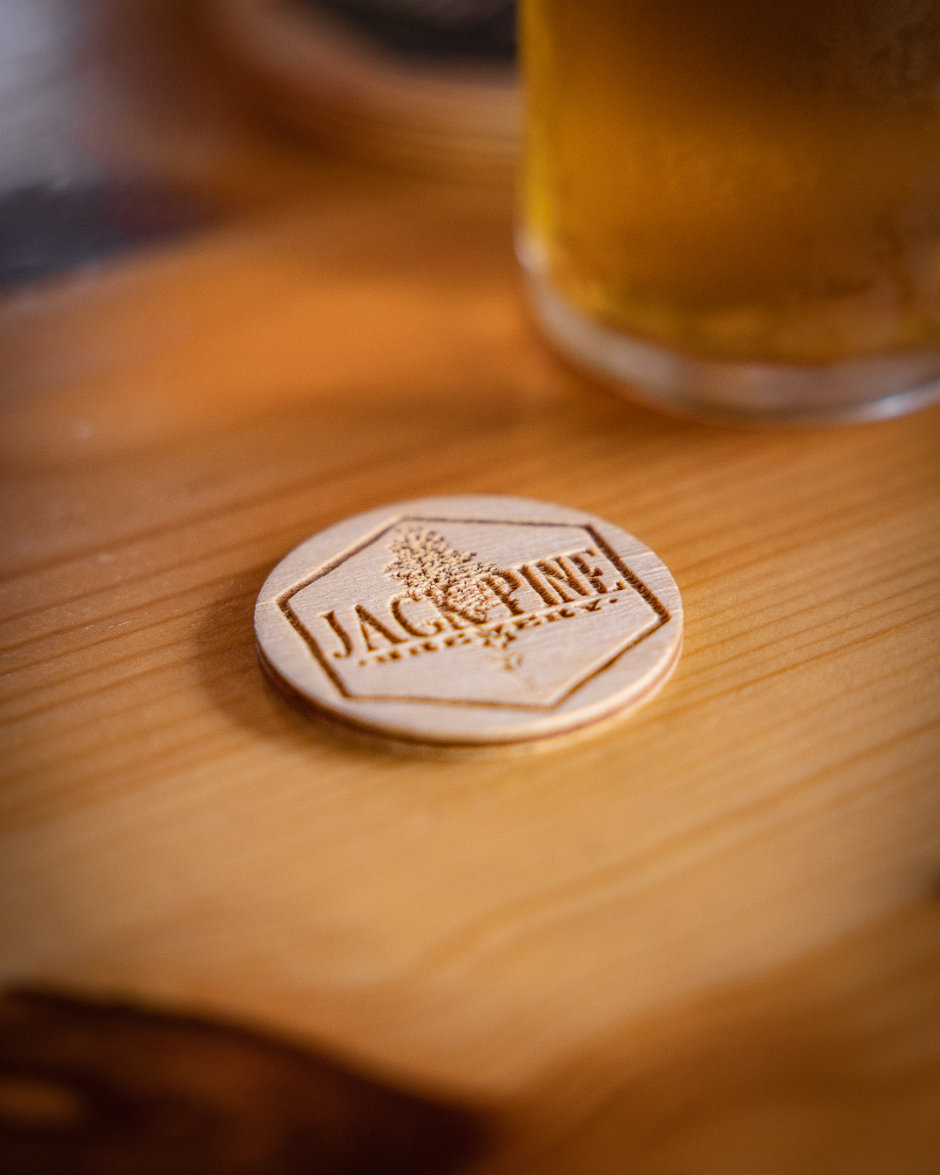 There are scarce remnants of Jack Pine's humble beginnings—few accidents in the design and decor. The vibrant Jack Pine logo draws your eyes behind the bar. A knotty pine rail traverses the edge of the room—underneath a mural that features the names of their flagship beers—leading to a glass garage door (told you).
We took a spot at a high top between the door and the bar, right in the center of the action. Our table quickly filled with beer, a mixture of flights, half pours, and pints. During our visit I tried six of their offerings:
Red Squirrel – a solid Amber Ale, clean and malty.
Cinnamon Toast Brunch – liquid french toast, as advertised and delicious—one star.
Coffee Brown Ale – on style and tasty.
Mango Vengeance – one of the better pepper beers I've tasted, heavy on jalapeño followed by a touch of mango.
Blueberry Pastry Sour – incredible, soft and pillowy with berry notes, a blueberry marshmallow dessert—two stars.
Knotted Pine Fruited Sour – slight tang with blackberry and boysenberry clean and bright throughout.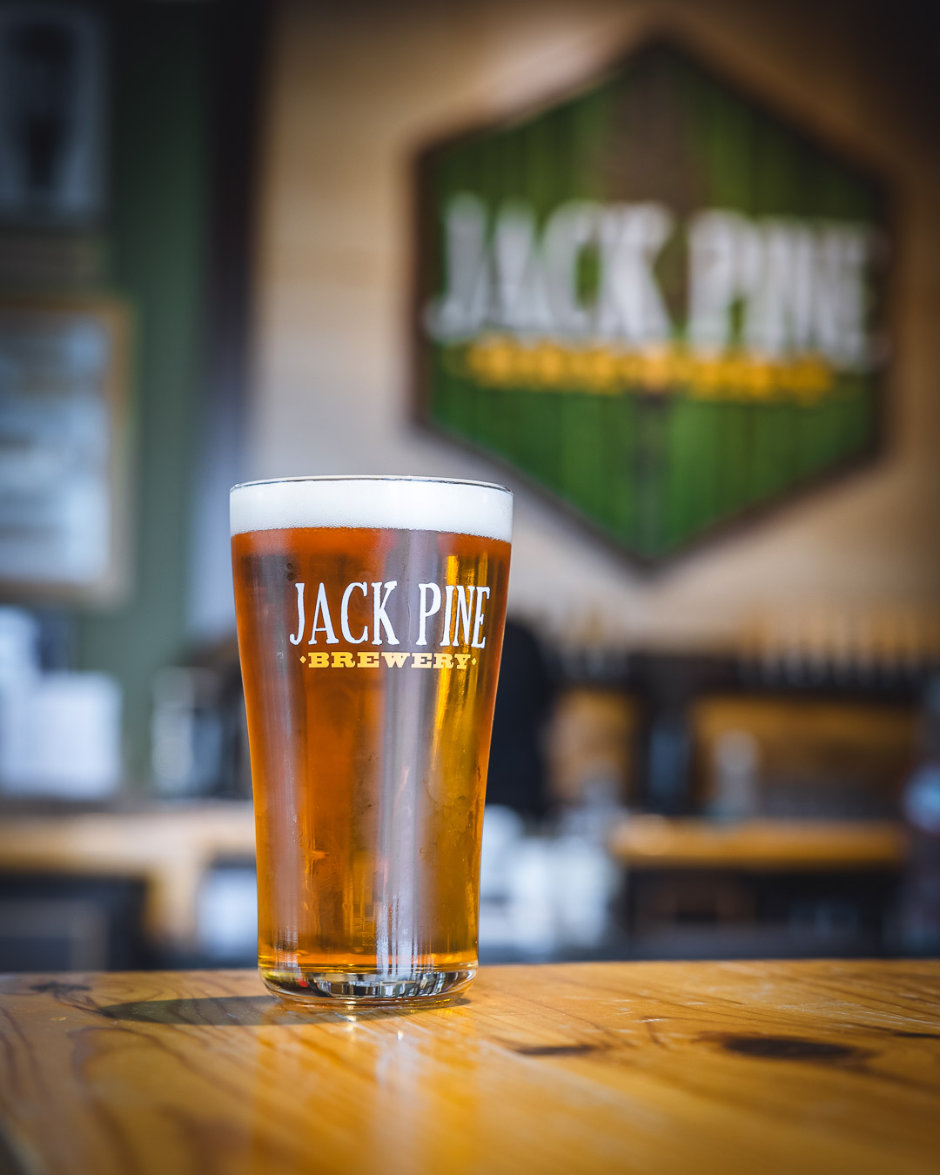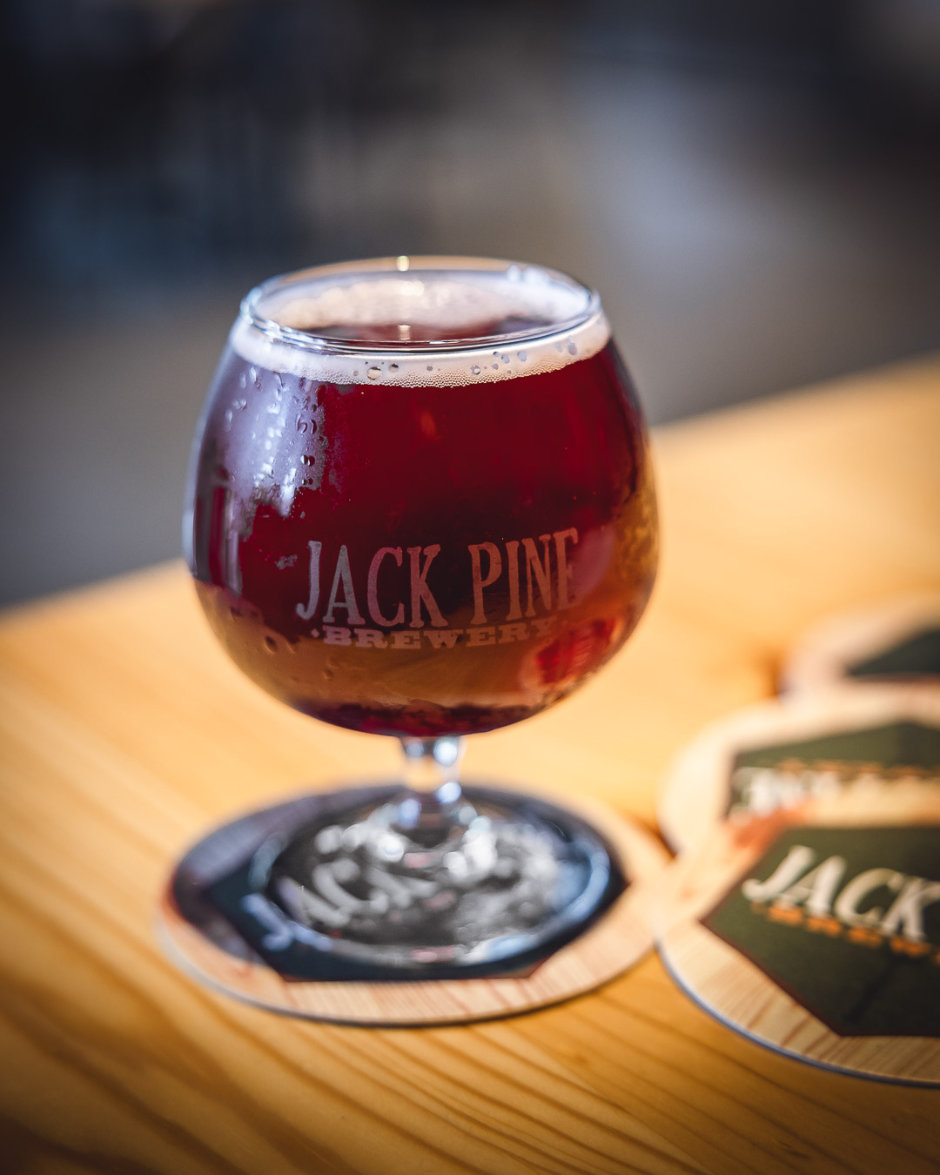 The beers impressed me. I remember enjoying them during my last visit and they exceeded my expectations in every way on this one. My favorites were the Cinnamon Toast Brunch and Blueberry Pastry Sour. Any time you can take a great base beer and add adjuncts to evoke the flavors and memories of something completely different, that's a win. Some say it's gimmicky, but if it tastes great that's all that matters to me.
Before we hit the road Jason asked the beertender if we could take a look around the brewhouse. He disappeared into the back and emerged with head brewer Cody Gebhardt in tow. He was a gracious host, giving us a quick tour of the brewhouse and samples of a few in progress beers, all while talking and sharing our love for craft beer. It was fascinating to hear his story of how he got into the industry and what led him to brewing for Jack Pine. It's wild to think of all the different backgrounds in that room, and how our paths intertwined. Jack Pine's beer is great, the people too. Until next time.